Editor's note: An earlier version of this story contained the incorrect percentage Carmel Mayor Jim Brainard used to describe the amount of the debt load that is is paid for with residential property taxes. It has been changed to 4 percent.
A Carmel mayoral debate Tuesday night mostly focused on the city's debt load and the current administration's spending, with Mayor Jim Brainard at one point handing his opponent a $10 bill in an attempt to prove a point.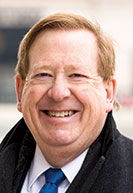 Brainard
The debate Tuesday night between Brainard and his challenger, Fred Glynn, a current county councilor, was hosted by the Ritz Charles and the Current in Carmel. The men are running against each other in the May 7 Republican primary.
From the onset of launching his campaign, Glynn has taken issue with the amount of debt—$1.3 billion, according to the Department of Local Government Finance—Carmel has taken on under Brainard's 24-year tenure as mayor.  
The topic dominated the hour-long debate even though only one question specifically was asked about debt.
Brainard defended the city's debt, which also includes loans taken on by city-owned utilities, saying Carmel has low tax rates compared to other cities around the state and in Hamilton County. And only 4 percent of the debt load is paid for with residential property taxes, Brainard said. The rest, he said, is paid with tax dollars generated by businesses, including the 125 corporate headquarters in the city.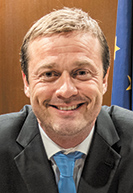 Glynn
In his closing statement, Brainard told Glynn he calculated his opponent's property taxes for next year and then reached into his wallet and pulled out a $10 bill.
"Today, Fred, I did the math," Brainard said. "I figured out what you're going to owe next year on your property-tax debt. Since you're upset about it, I'm going to give it to you. It's $10. Actually, that's 31 cents more than it actually is—$9.71. There you go."
Glynn accepted the cash before handing it to his daughter, who was seated in the front row.
"I gave that money to my child," he said. "You know why? Because it's children in this city that will be forced to pay for his reckless spending."
Glynn said the biggest challenge for the next mayor will be to provide services and amenities and keep the city operating while managing and paying down the debt. He pointed to a Standard & Poor's decision in 2017 to downgrade the city's credit rating from AA+ to AA as proof of the city's spending problem.
"You don't have to take my word for it on the debt," he said. "Listen to the S&P that downgraded it and said the reason they downgraded the debt is because he took out $300 million in the past few years."
Brainard argues the AA credit rating is still a good one. He also said the debt has been necessary as Carmel has evolved.
"We're a brand-new city," he said. "We have millions of dollars we need for roads, for sewers, for water."
Other questions Tuesday night focused on public-private partnerships between the city and developers, and on other incentives used to attract businesses to Carmel.
Glynn said the city has relied too heavily on public-private partnerships to redevelop parts of Carmel.
"I don't think the government needs to be giving away money," Glynn said. "…You don't always have to give away money to businesses to get them into your city, and if you have to lure development and businesses with money, then you're not getting a loyal business to your community anyway."
The city isn't writing checks to developers, Brainard contends. Redevelopment money, generated by tax-increment financing revenue paid by developers, is used to build public infrastructure, including sewer systems, roads and parking garages, he said.
"We use that money to make the area beautiful," Brainard said. "And, quite honestly, that's how we compete for those 125 corporate headquarters."
Brainard said his administration is trying to build the "most beautiful city anywhere" that will attract more companies and residents to move to Carmel. And every election season, he said, his challenger makes it seem like "the sky has been about to fall."
"Carmel is fiscally sound," Brainard said in closing. "We've got a great future. We've got a great fiscal plan. We've got great staff at city hall. …I'm asking you, keep that team in place and continue to build one of the best cities anywhere."
Glynn closed by saying Brainard has been at the helm too long and it's time for a new leader. This election marks a turning point for the city, he said.
"What did we hear from this debate tonight?" he asked. "We heard from my opponent that there's no end in sight to his vision. If he gets re-elected, he's going to keep stacking up debt … he is going to keep buying up private real estate using public money. If he gets re-elected, he's going to keep rewarding his campaign contributors and preferred developers with your tax dollars."
Please enable JavaScript to view this content.