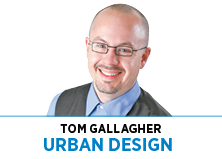 The warmer weather over the past couple of weekends has me hopeful that porch season will soon be upon us. I look forward to that brief but sweet moment when it's warm but not ugly hot, there's hardly a bug, and we can finally sit outside and remember we have neighbors.
Unfortunately, while porches are making a comeback in single-family areas, they—along with their cousins plinths and stoops—are regularly forgotten in contemporary residential development. This is particularly true for urban apartment buildings and middle-density housing types like doubles and four-flats. Omitting this deceptively simple gesture of a vertical separation of street level from living space is a significant loss as it is one of the most important elements in the success of urban residential places and offers us a myriad of overlooked benefits.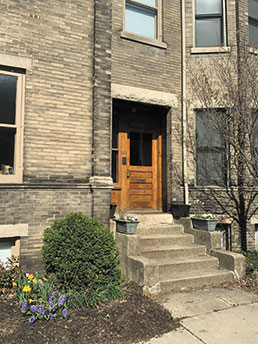 The stoop leading into this Alabama Street town house is a critical design element that many of downtown's newest residential projects fail to include. (Photo courtesy of Ratio)
Architecturally speaking, the plinth, the base of a building between a raised first floor and grade level, mentally and physically grounds a structure, giving the appearance of a firm foundation on stable footing. Moreover, without it, a building can feel out of proportion and top-heavy. To be clear, you don't need to be an architecture scholar for this to matter. Even if we are not completely aware, all of us naturally read these cues in the built environment.
The fact is, we are continuously and unconsciously reading places and interpreting their information, which, ultimately, influences our feelings about them, our actions in them and our comfort within them. In residential places especially, we are highly attuned to cues that address our innate sense of personal space and understanding the demarcation of private versus public space and the subtleties in between.
Unlike commercial buildings, where window shopping is an essential activity, the residential plinth provides an occupant with the perception of privacy and the passer-by is no longer forced to be a voyeur. The stoop is a clear line defining a semi-private space, one into which it feels we need an invitation to enter. Additionally, the raised position of a stoop provides a resident with a place of refuge from which to observe the surrounding environment—one of our most basic psychological comforts.
There is no absolute measure of just how high the ideal stoop should be. To be sure, there are many subtle influences, including whether the home is set off from the street, at the back of the sidewalk or somewhere in between. It is a rare occasion, safe to say, that less than two feet will do the trick.
Clearly, the importance of raising the first level above the street does not negate our responsibility for making places universally accessible. It simply requires a higher attention to design and detail. Ground-floor apartments are already some of the least popular; we need not add to their deficiencies by omitting the plinth.
In the end, it takes more than height alone to create a successful porch or stoop. Certainly, it is an extension of a home's living space but more specifically, it is like a home's coffee house. It is a place where you can enjoy the company of acquaintances or feel a sense of belonging just by sharing a nod or a wave, "hello."
This is the magic of the stoop—it is at once a part of the public realm and the private; it provides distance and definition without absolute separation or detachment. Similarly charmed are the steps themselves, which are simultaneously a transition and their own place.
Suburban form and its fixation on the provision and placement of uses has had a heavy influence on our city. This has come at the cost of the subtleties of urban places that perpetuate vigorous human experiences and relationships. Within our remaining urban areas and historic neighborhoods there is guidance, both formal and informal, from which we need to learn. We can start with not forgetting the porch.•
__________
Gallagher is a principal and urban designer with Ratio and a professor-in-practice of urban design at Ball State University. Send correspondence to TGallagher@ratiodesign.com.
Please enable JavaScript to view this content.