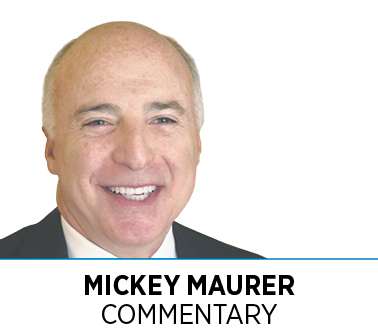 I have written a personal column for this newspaper for more than 25 years. Other than scheduled absences for a stint as Indiana secretary of commerce and a couple of months off to complete a book, I missed only two dates that I recall. One of them was last month.
My column was tendered on time to IBJ editors. It was an April Fool's Day send-up that made me and others laugh out loud. It was raunchy—no bad words but lots of innuendo. Think "Blazing Saddles" and its ingenue Lili Von Shtupp. I would have rated it PG to R. Our editors must have rated it R to X—or maybe just X—and deemed it unfit for publication in the IBJ.
I disagreed but was unable to convince even my loyal advocates. Maybe their decision was sound. I do not manage the newsroom. Never did. Besides, the pearl was not worth the dive. Curious? Having been forewarned, if you want to read that column, send me an email. Understand that our transaction is not officially sanctioned by IBJ. It is just between you and me. If you like it, in lieu of flowers, just do not vote for Trump.
Graduation day is approaching. I was not invited to deliver a commencement address this year, so to atone for my naughty April Fool's Day behavior I'll share some good clean employment advice given in all sincerity from years past.
◗ 1998: You get to be a White House intern this year. When you get to Washington, call this number for confidential advice from Linda Tripp. She is trustworthy and will take good care of you.
◗ 2001: Oil is the future of energy and Enron is hiring. Ken Lay and Jeffrey Skilling would be honest role models for you. While you are at it, invest in Enron stock.
◗ 2005: Perhaps you wish to further your education after college. I suggest you apply to Trump University and its Trump Wealth Institute. You'll want to take courses in entrepreneurship and wealth creation from an organization that will be around for a long time.
◗ 2008: Would you like to double your graduation money? Here's the phone number for Bernard L. Madoff Investment Securities. Bernie is a Wall Street wizard.
◗ 2008: Investigate a career on Wall Street. Investment banking pays well. Try Lehman Brothers. It's too big to fail.
◗ 2016: Forget the job offer from the Pence team. After the Religious Freedom Restoration Act, he is washed up.
◗ 2017: You want to make it in Hollywood? Interview with Harvey Weinstein. He has assisted more than 80 women with their careers. He'll make you a star.
◗ 2018: A woman with a law degree can go anywhere. I am meeting Indiana Attorney General Curtis Hill at a bar tonight. Come along and I'll introduce you.
◗ 2018: Buy stock in Sears. Stick with bricks and mortar. Amazon is a bubble about to burst.
My advice in 2019 may be no more valuable than that cited above. Invest in businesses serving our aging population. We are surviving in large numbers. Many of us are vibrant and healthy and have spendable income. Take care of us. Cater to us. You'll make a fortune.
Speaking of the aging population, thank you for reading me over the last 25-plus years and for the dialogue we shared. It's time for new voices. My regular column will cease on my 77th birthday in December of this year.•
__________
Maurer is a shareholder in IBJ Corp., which owns Indianapolis Business Journal. To comment on this column, send email to mmaurer@ibj.com.
Please enable JavaScript to view this content.