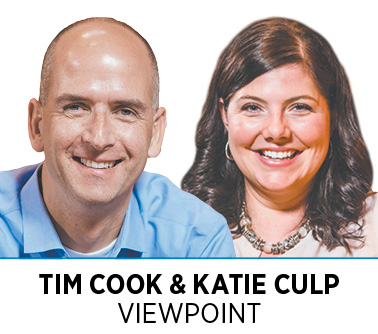 Indiana's success (or failure) at talent development is key to its future. Legislators and Gov. Eric Holcomb have spent a lot of time addressing this challenge. They've created new programs, talked of consolidating agencies, and devoted a lot of money trying to do it better, smarter. We support and applaud these attempts to overhaul this important economic development pillar.
In the frenzy surrounding these efforts, however, one of the few programs that does work is at risk of being ruined: the Skills Enhancement Fund, known as SEF.
SEF is a training grant awarded by the Indiana Economic Development Corp. to companies adding or retaining jobs. When SEF began, it suffered from being over-bureaucratized. Companies rarely used their entire grant, so millions of SEF dollars were wasted.
Then IEDC overhauled SEF with one simple goal: Provide the training dollars companies say they need and get out of their way. The agency stopped nickel-and-diming how companies could spend SEF, removing the compliance shackles that made federal military contracts seem mild by comparison.
Overnight, SEF went from an also-ran to the best training-based incentive in the nation. As two site selection consultants with a combined 45 years of experience working hundreds of deals in all 48 contiguous states, our knowledge comes firsthand. We have worked with every type of training grant there is. SEF is exceptional.
Two critical features set SEF apart from its counterparts. First, few restrictions are placed on the types of training that qualify. Companies determine how the money is spent. Second, companies can be reimbursed for employee wages while those employees are being trained. When IEDC instituted these policy changes, it was deregulation at its finest.
A great example of SEF's impact is our client Lev. Lev is a tech company previously headquartered near Phoenix that opened an Indianapolis office in 2016. Lev was able to use SEF to train its rapidly growing workforce so effectively that it has since redirected most of its future growth to Indiana and moved its national headquarters here.
Unfortunately, proposed legislation would impose training outcomes and other restrictions on SEF that will return this best-in-class program to the dark ages when companies didn't use it and Indiana lacked a competitive training grant that could help it win deals.
With all due respect to critics who argue SEF dollars are sent out the door willy-nilly with no controls in place, you are incorrect. IEDC vets every SEF application through a highly competitive process. It determines eligibility and award amounts on a case-by-case basis. Every reimbursement request is individually reviewed and approved, and recipients are subject to annual reporting and audit oversight for five years after the grant ends.
Our intent is not to criticize the spirit of what the Legislature is trying to achieve. Legislators are asking important questions about incentives and their payoff. But skeptical lawmakers, remember IEDC has an astute, competent executive team already manning the store when it comes to SEF. The agency is run by two former CEOs of highly successful companies and overseen by an actively engaged board composed of Indiana's most accomplished private-sector business leaders.
Yes, verify the results, but trust that IEDC is making the right decisions to attract and retain Indiana's best businesses. Proof of SEF's success is documentable with every new deal Indiana wins.
Well-meaning elected officials are often accused of doing more harm than good. SEF's fate is this Legislature's opportunity to debunk that myth. It will be the easiest victory this session.•
__________
Cook is CEO and Culp is president of KSM Location Advisors.
Please enable JavaScript to view this content.