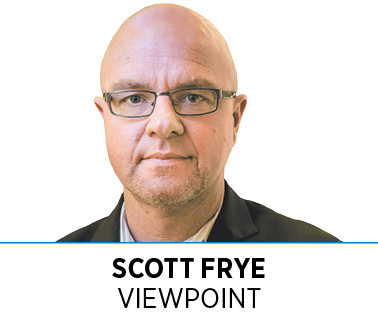 I am the principal of Paramount Brookside, a K-8 public charter school on the east side. This year, nearly 50,000 Indiana students are attending one of Indiana's nearly 100 public charter schools. Almost all of these schools operate in urban, low-income neighborhoods.
At Paramount, we believe in providing our students with a world-class education. We do this by creating a safe learning environment where our students diligently work to master the Indiana academic standards. Students have access to high-quality teachers, mentors and counselors, as well as current technology, an environmental education program and various extracurricular activities.
Because of their hard work, the teachers and students have been awarded an A grade from the state the past five years and were recently recognized as a National Blue Ribbon School. When our students graduate from Paramount, they are confident they will be successful in high school, college and their career.
As an administrative team, one of our top concerns is the well-being of our teachers. Our students need teachers who are 100% devoted to ensuring student success. We do not want to lose great teachers due to a lack of financial resources.
I believe it is necessary to support House Bill 1001 and the increase in the Charter and Innovation Network School Grant Program for charter school students. These grants work to close a major funding gap between traditional public schools and public charter schools. While charter schools are public schools, they do not receive the roughly $3,200 per pupil in local property tax dollars to cover expenses for buildings, transportation, maintenance, insurance, etc.
As a result, charter schools must divert a portion of their state tuition support dollars to pay for these items, resulting in less funding for teachers and other classroom expenses that directly impact students. These grants help bridge that gap so more dollars can be directed to the classroom and public charter schools can continue to maintain a level of educational excellence.
It is time to recognize that public charter schools deserve every penny traditional districts receive per student. It is time for our Legislature to bridge that funding gap so high-performing public charter schools can continue to attract and retain talented staff. We believe every student in the state deserves access to high-quality education. Public charter schools in low-income, predominantly African-American neighborhoods should not be forced to do more with less.
The majority of our students face issues such as systemic poverty, hunger, family situations, etc. However, our teachers do not let that stop them from educating these deserving students. The same students dismissed as "low performing" at other schools excel in our public charter school. They learn to read at or above grade level. They test in the top 20% of their peers statewide. And they do it all while their school receives less money per student than the traditional public school four blocks away.
It is time for our Legislature to increase public charter school funding and close the gap between all public schools in our great state.•
__________
Frye is principal of Paramount Brookside school.
Please enable JavaScript to view this content.