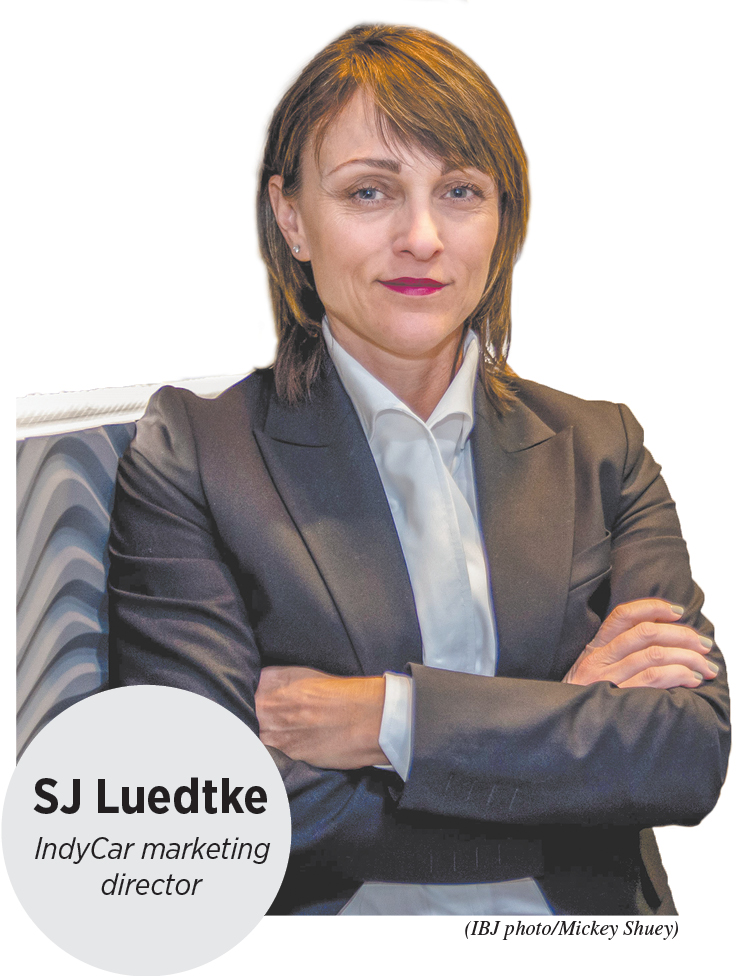 After nearly a decade at Nike, SJ Luedtke has returned to Indianapolis to lead marketing efforts for IndyCar. Luedtke, who took over in early March, spoke to IBJ about what drew her to the job, her experiences working for the apparel company, and what comes next for the racing series.
You were previously involved in several IndyCar-related endeavors when you were in Indianapolis several years ago. What made you decide to return to the city for this position?
I think IndyCar has all these great pieces in place, and there's a great crop of stars to be developed in the series. I'm excited to be able to show the impact I can have in taking the series and the sport into the future.
What was it like to be involved in some of Nike's big efforts, particularly the Just Do It 30th anniversary campaign that featured Colin Kaepernick?
The campaign that came out last year was certainly controversial in a lot of ways. I didn't play a huge role in that piece of it, but what I did love about that campaign is that it had a strong enough message that you could look at it a couple different ways through different points of view and find a connection point to it. It also started a conversation, and I think one of the best goals a marketer can reach is to make people feel something; [they're] either going to love it or hate it.
Most recently at Nike, you were involved in the football advertising campaigns. What approach did you take to that?
We really rethought who we were trying to target and honed in on the fact that football is the ultimate team sport. We did some work to reposition the Nike football brand to really serve that team mentality and make sure we weren't just focusing on the most elite players, but also focusing a little more democratically [on lesser-known stars]. That allowed us to leverage multiple players within the game of all levels of skill, of all levels of stardom.
What is a primary focus for you as you get going in this role, particularly given you came in just two weeks before the racing season began?
I think a major shift will be how we think about and build content to share and try to push that content to reach a younger audience, while still balancing out the needs of our existing fan base because we certainly don't want them to feel neglected. But I think we need to really think about how we continue to become a more youthful sport.
In the next five years, what would you like to accomplish at IndyCar?
I hope that we can say we've become … maybe the most digitally led sporting series in North America, if not the world. The technology we have behind our sport—all that great data and information—combined with the excitement of the product and talent of our drivers … is an interesting mix to showcase. We can become a forward-thinking, cutting-edge series.
IndyCar recently partnered with NTT as its series sponsor and technology partner. What are some things you're hoping will come from that relationship?
We're working on an update [to our app] to improve qualifying coverage and our leaderboards, making it more interesting and informative for fans who tune in through the app. We'd also like to elevate the fans' experience when they're at the racing venues, by breaking down some barriers to help them be further engaged in the action. We're hoping to kick some of those off in May at the Indy 500.•
Please enable JavaScript to view this content.