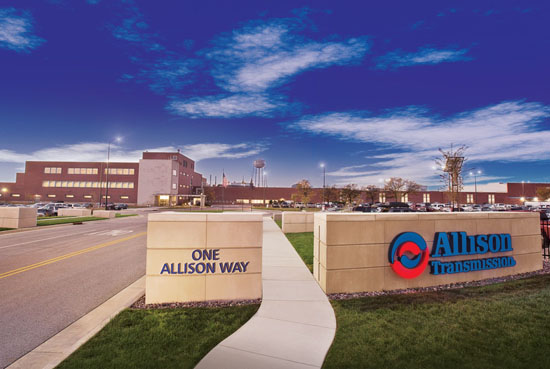 Indianapolis-based Allison Transmission Holdings Inc., in two separate deals announced Tuesday, has acquired the electric vehicle systems division of Troy, Michigan-based AxleTech International and London-based Vantage Power Ltd. for a combined $132 million dollars.
In a transaction that closed April 16, Allison paid $123 million to acquire the assets of AxleTech's electric vehicle systems division, which makes electric axles for medium- and heavy-duty trucks and buses. AxleTech's systems can be used in battery electric, fuel-cell electric and electric hybrid vehicles.
AxleTech has nearly 800 employees in Michigan, Chicago, Wisconsin, France, Brazil, India and China. 
Allison also paid $9 million to acquire 100 percent of the stock of Vantage Power in a deal that closed April 12. Allison could pay an additional amount of up to $8 million over the next three years if certain conditions are met.
Vantage, established in 2011, makes hybrid and electric propulsion systems, battery systems, powertrain control systems and telemetry data systems for heavy-duty vehicles.
The acquisitions are expected to help accelerate Allison's electrification efforts, broaden its product portfolio and expand its engineering expertise, the company said. 
"These investments, along with others to come, will ensure that Allison remains in position to meet the challenges to come," Allison Chief Financial Officer Fred Bohley told analysts during a conference call Tuesday morning.
Allison, which makes automatic transmissions for a range of commercial vehicles, is currently developing multiple electrified products, including extended-range electric hybrid propulsion and battery-management systems and integrated e-axles. It products are used in a range of commercial vehicles, including school buses, dump trucks and military vehicles.
President and CEO David Graziosi said Allison needs to offer a variety of propulsion systems because the market it serves is so fragmented.
"Today, we find ourselves with more opportunities to drive innovation and growth than at any other time in our history," Graziosi said on Tuesday's call. "Allison is committed to advancing all forms of electrification."
Allison also released its first-quarter earnings on Tuesday.
The company reported a quarterly profit of $167 million, or $1.32 per share, up from $151 million, or $1.08 per share, during the same quarter of 2018.
Revenue totaled $675 million for the quarter, up from $663 million a year earlier.
The company affirmed its 2019 guidance, saying it expects full-year sales in the range of $2.58 billion to $2.68 billion, with a profit in the range of $525 million to $575 million.
Shares in Allison were down 86 cents, or 1.8 percent, to $47.03 each, in early trading Tuesday.
 
Please enable JavaScript to view this content.