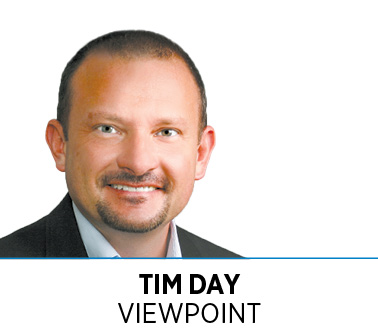 Fifty years ago, American technological ingenuity put a man on the moon. Today, we hold virtually the same power in the palm of our hands, as modern smartphones can process even more data than that Apollo spacecraft.
Times have changed, and the pace of technological disruption isn't slowing down. We're only at beginning of what's possible.
That's why the U.S. Chamber of Commerce's Technology Engagement Center, known as C_TEC, recently embarked on a series of discussions around the nation focused on data-driven innovation—and we started that tour in Indianapolis.
Why Indianapolis? At the U.S. Chamber, we're increasingly looking to host forums in some of the most forward-leaning and innovative cities in the nation. Partnering with Indiana IT Councils, local chambers and tech companies, our event explored the opportunities and challenges innovators in Indiana and across America are facing.
For example, according to a new study we conducted with Amazon, unlocking the digital potential in Indiana could add more than $2 billion to state gross domestic product every year.
So how do we get there—and how do we reach even further?
It starts with local business leaders. Companies like Infosys, for instance, are helping transform Indianapolis into a renowned technology hub, aiming to bring more than 2,000 Hoosier jobs to the city as a part of its commitment to hire 10,000 Americans this year. To fulfill that promise, we must equip students and workers with the skills necessary to fill those jobs.
Indiana is also leading the way in cutting-edge broadband technology, with AT&T and Verizon using the city as a test market for faster services like 5G. Increasing digital connectivity in rural areas will push Indiana further ahead—improving economic productivity, expanding access to online education and entrepreneurship, encouraging rural tele-health care, and generating new employment opportunities.
Indiana's ag-tech industry is booming, too. From farmers to large agricultural companies to legislators, the industry is transforming and opening market opportunities for farming communities to thrive. The agriculture sector is undergoing significant transformation, and C_TEC aims to highlight the opportunities and challenges farmers face.
Amid all this disruption, we continue to see the worlds of technology and public policy colliding. Problem is, public policy moves at a snail's pace, while technological change moves at warp speed.
Now more than ever, it's critical for policies of our governments at the federal, state and local levels to keep pace with the progress of our economy. While we don't know what the future holds, we do know we have an opportunity to lead and educate elected officials and consumers alike.
We are excited to start this national conversation about the benefits of technology, the challenges on the horizon, and the vast opportunities #AmericanInnovators have to create, adopt and use mind-bending technologies that will shape our lives for the next 50 years.
Likewise, we are excited to have started that conversation here in Indiana, where Hoosiers showed us and are showing the country what technological innovation and disruption can do for all Americans.
To learn more, you can visit AmericanInnovators.com.•
__________
Day is senior vice president of the Chamber Technology Engagement Center at the U.S. Chamber of Commerce.
Please enable JavaScript to view this content.