Is it good for Indy to host the NRA convention?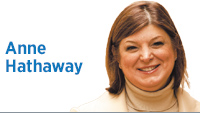 By now, attendees of the National Rifle Association Annual Meetings and Exhibits have descended on Indianapolis—bringing with them their families and spirit to defend the Second Amendment.
As a Republican, a Hoosier and a firm believer in protecting our basic liberties and freedoms, I am proud to welcome them.
Hosting the NRA's Annual Meetings and Exhibits for the second time in the last five years is a huge win for our city. This weekend alone, Indianapolis will welcome more than 80,000 visitors who will pump more than $55 million in revenue into our local economy, according to recent projections. NRA members and their families will fill our hotel rooms, eat at our restaurants, and visit our attractions.
It is no surprise why our fair city is so attractive to the NRA—and to the countless other large conventions we host annually. In the heart of the Crossroads of America, Indianapolis is a highly connected city within easy driving distance of the entire Midwest. When conventioneers arrive, they are welcomed by our easily accessible bars and restaurants, sports teams, family-friendly attractions, and more—all of which are supported by our legendary Hoosier hospitality.
That is why it is disappointing that many in our region, including Mayor Joe Hogsett, have been staunch critics of the NRA, even as it has chosen Indianapolis to host its largest annual event this year and again in 2023.
Let's look at the facts. Today, with more than 5 million members, the NRA has a founding principle of unapologetically defending the Second Amendment to the Constitution which guarantees our rights as citizens to keep and bear arms. Our founders knew they could not guarantee the other rights afforded in the Constitution if the individual citizens were not empowered. It is the Second Amendment that makes such crucial rights as speech, press and assembly possible.
With the freedoms guaranteed by the Second Amendment come the solemn responsibility for gun owners to exercise that right in a safe and ethical manner. That's why the NRA remains the gold standard when it comes to firearms- and gun-safety training. Today, the organization boasts a network of more than 125,000 certified instructors who train more than 1 million people throughout the country each year in programs ranging from youth firearms training to supporting law enforcement training programs.
Gun ownership among women is on the rise, with many women viewing gun ownership as an empowering tool for defending themselves or their families. According to a Gallup survey, 23% of women were self-reported gun owners in 2011, compared to just 13% in 2005. More important, according to a Pew survey, women are far more likely than men to name protection as the primary motiving factor for gun ownership, as opposed to recreation.
Here in Indiana, we are lucky to have first lady Janet Holcomb, who is an NRA-certified instructor. While I am not an experienced shooter and maybe what some would consider a non-traditional NRA member, I am inspired by the first lady's leadership and example to teach more Hoosier women how to own and shoot responsibly.
Instead of using the NRA and its 5 million members as a political punching bag, I hope Indianapolis leaders will roll out the red carpet—not just because of the economic impact the convention will bring, but also because of the important work done every day by the NRA to keep us safe and protect our freedoms.•
__________
Hathaway is president and CEO of Hathaway Strategies, chairwoman of the Julian Center board and former chief of staff of the Republican National Committee. Send comments to [email protected]
Click here for more Forefront columns.
Please enable JavaScript to view this content.