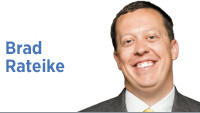 One of my favorite "bad" movies of all time has got to be the 1989 classic "Road House," starring Patrick Swayze. It's the tale of a highly skilled bouncer played by Swayze, who moves to a small town when he is hired to clean up a rough honky tonk, Double Deuce, and fend off attempts by a local "boss" to drive the bar out of business because the owner won't pay him off.
Though the movie was not nominated for any Oscars, not even close, there is a memorable scene in which Swayze's character addresses the Double Deuce staff in a colorful and direct manner. In the brief conversation, he provides a few pearls of wisdom that provide some food for thought, especially when it comes to public engagement in business and politics.
Rule 1: "Never underestimate your opponent."
In the scene, Swayze is referring to the size or perceived threat of an unruly patron. In business and politics, this can take many forms. Whether working at a small business or a Fortune 500 company, it is critical to know your competition, present a strong appearance, understand the market, and deliver a superior product. The minute you take any of those for granted, you become vulnerable.
The generally accepted rule in politics is to always run your campaign as if you're 10 points behind, no matter what your polling numbers indicate. That strategy has saved many candidates from experiencing historic defeat. Where candidates have gotten lazy by believing their own hype and putting the campaign on cruise control, upsets occur— i.e. the 2016 presidential election.
Rule 2: "Take it outside."
When problems arise, own them as your problems and try to avoid making them anyone else's problems.
For most people, there is a general desire to not upset the herd, especially in a public setting. I'm no Miss Manners expert, but I have grown to believe that, even when you're not getting your way or you feel you're getting less than optimal treatment from a colleague, competitor or other adversary, it's best to keep your frustrations contained so that only those who are involved in a particular situation have to be exposed to it.
In politics, this is personified when candidates remain disciplined and stay on message instead of taking the bait and responding to an accusation or inflammatory statement from an opponent. If you can "take it outside," you're better able to do your job in the manner you intended.
Rule 3: "Be nice."
This seems to be the easiest to understand, but it's often the hardest to live by. After Swayze's character conveys this final message to the staff, they present him with scenarios they feel entitle them to "not be nice," but Swayze, undeterred, responds with, "Be nice."
Many of us grew up with mothers who impressed upon us that, "You catch more flies with honey than vinegar." Just because it's cliche doesn't mean it's wrong. In business and in politics, people are drawn to the happy warrior. If something doesn't go your way, and you're able to be nice, you'll undoubtedly set yourself up for a better chance at success the next time.
Demonstrating grace in defeat is probably the most difficult thing any political candidate is ever asked to do—and some are never able to do it. People remember that.
"Road House" might not have broken box office records, but the life lessons learned at the Double Deuce have proven themselves to be worthy of consideration. Putting them into action, well, now that's a different story.•
__________
Rateike is founder and owner of BAR Communications and served as director of cabinet communications for President Donald Trump. Send comments to ibjedit@ibj.com.
Click here for more Forefront columns.
Please enable JavaScript to view this content.