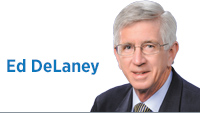 We are all having a lot of fun lately tossing the word "socialism" around. Some want to embrace the term while others want to weaponize it. Naturally, there is little understanding of what the term means. So politicians just use the word and and lay off any serious conversation.
I do not want to add to this particular confusion but do want to point to a related irony about education and energy policies being embraced by some Indiana Republicans.
Two of the hallmarks of traditional socialism are an embrace of government planning and an overdone reliance on statistics. I expect my Republican colleagues to be wary of these temptations. After all, they espouse a belief in human fallibility and a fear of government action. Yet in the waning days of the Legislature, I am confronted with two efforts to impose plans from above and to drown us under statistics designed to ensure that the plans are executed. How can this be? An analysis of the education and energy bills at issue might give us an answer.
House Bill 1003
The Republican education leaders in the General Assembly are responding to the demand for teacher pay by a directive to compel school officials to direct 85% of their state funds (as opposed to local property taxes) "to the classroom." So rather than send more state dollars to support pay, we will insist that the inadequate state tax dollars we do send are used to pay teachers rather than to fuel buses or build buildings. Transfers from state dollars to "operational" purposes are to be reported. Those who spend too much of state funds on things other than salaries are to be shamed, whether the expenditures were needed or not.
We will not be reporting by district on whether property tax revenues as capped are inadequate. Nor will we look at the impact of poverty on the costs of providing education. As a part of this new reporting, we will require state and local education officials to generate masses of data.
What will we gain from all this? I suggest we will get an excuse much needed by the Republican education leaders. If teachers are paid so little, it will be because state funds have been "diverted," not because they were inadequate. We will also be able to shame certain districts. And if we have asked too much of underfunded districts, we will have them to blame. Statistics will be used to "prove" all this. This doesn't sound very Republican but it might provide a fig leaf to cover inadequate state funding.
Modern-energy moratorium
Late in the legislative session, we began to hear about a supposed need to impose a moratorium on utilities that plan to shift from coal to cheaper and more environmentally friendly energy sources like natural gas and wind. Plans to modernize NIPSCO and Vectren facilities would be put on hold for some 20 months. In the meantime, a statewide "plan" would be created to move forward. We would organize a study of mounds of data. Meanwhile, the utilities and the regulators who already deal with modernization plans would be on hold.
It is the same temptation toward planning that I see in our education bills. The hidden purpose would be to keep using coal no matter what the utilities or consumers might prefer.
This is hardly full-blown socialism, but it is an abuse of planning as a device to delay and indirectly control a regulated market that does work.•
__________
DeLaney, an Indianapolis attorney, is a Democrat representing the 86th District in the Indiana House of Representatives. Send comments to ibjedit@ibj.com.
Click here for more Forefront columns.
Please enable JavaScript to view this content.