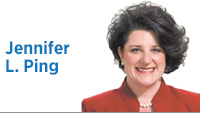 Rounding out his first 100 days in the U.S. Senate, Sen. Mike Braun met with Indiana business, governmental and educational leaders at Ivy Tech Community College to discuss his introduced Senate Bill 1072, the Pell Flexibility Act of 2019. As a longtime employer himself, Braun's unique understanding of the need for a skilled workforce is benefiting not only Indiana, but also the nation.
In his discussion with Gov. Eric Holcomb, Ivy Tech President Sue Ellspermann and business leaders, Braun described the status quo as insufficient to support our nation's workforce needs. The ever-widening skills gap is creating what Braun has shared to be an economic disadvantage for the United States in the 21st century economy.
The United States has more than 6 million unfilled jobs due to worker shortages in technical and skilled-labor roles. Indiana, alone, is 80,000 jobs short. Without a dedicated focus to filling this gap, it is estimated the skilled-worker shortage could reach 11 million nationwide by 2020, in just a year.
The senator has introduced the Pell Flexibility Act pilot program, which would make federal grants available on a pilot for students to use in technical training and education programs that specialize in skills that have been prioritized as economic needs.
The goal is to reduce student-loan debt while increasing the trained workforce and shrinking the nation's skills gap. Per the introduced legislation, the U.S. Department of Education would be responsible for monitoring and evaluating the program and measuring its success in meeting workforce needs, job placement and retention rates for needed fields.
"To improve job placement, reduce the crushing burden of student loan debt, and address the crisis of the workforce skills gap, higher education must adapt to meet the needs of employers," Braun said about his proposed legislation.
"Prioritizing federal student resources to skill-based programs that employers are calling for is a critical step in that direction."
Under the pilot, Title IV-eligible institutions of higher education who offer certificate programs of 320-600 hours could apply to the U.S. Department of Education to participate in the program, with a limit of 100 institutions and eight programs per institution. This could be a game changer for Hoosiers seeking to skill up at education institutions like Ivy Tech, which offers programs that would be Pell-eligible if the bill becomes law.
The bill would be a promising step forward in permanently expanding Pell grants to certificate programs.
This is not an entirely new idea: The JOBS Act has similar attributes but has yet to be passed. Now is the time for the Senate to support Braun and all workers seeking the training needed to expand their skills.•
__________
Ping is a principal at Bose Public Affairs Group and former chairwoman of the Marion County Republican Party. Send comments to ibjedit@ibj.com.
Click here for more Forefront columns.
Please enable JavaScript to view this content.