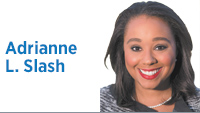 Black futures are looking brighter in our community, but in order for the vision to become reality, everyone has to do his or her part.
Remember April 11, 2019. That's the day the Central Indiana Community Foundation revealed its long-awaited new strategy. The foundation's new mission: "To mobilize people, ideas and investments to make this a community where all individuals have equitable opportunity to reach their full potential—no matter place, race or identity."
As I searched through social media in the days following, I found a couple of common threads worth discussing: 1) "This information is nothing new," and 2) "I didn't realize it was that bad."
We have lived in two separate Indianapolis communities my entire life and these two threads are highly representative of our separate realities. In 2015, while I was running for City-County Council, I got a chance to really meet my neighbors and see the city from all of their unique perspectives. I heard the same sentiments then: nothing new, and I didn't realize it was that bad.
We have neighbors who are doing really well living beside neighbors who haven't had the same access to or benefits from the same opportunities. We have neighbors who have been victims of systemic racism living among many who believe racism ended with the civil rights movement and that there is no such thing as privilege.
The idea of desiring community-wide equitable opportunity to enjoy our great city is just a concept until we work to bridge the divide. We must get uncomfortable to do that. CICF is taking the lead on that discomfort.
As a millennial, I'd love nothing more than to toss this in a microwave and cook the plan rapidly to serve this new Indianapolis to Generation Alpha as they come of age.
So now that we know and have civic organizations and their leaders ready to do the work, what's stopping our community from getting this done? Is it a lack of vision, pride in our assumed power, our attachment to our comfort zone, or lack of know-how?
I'd argue, it's all of the above. I would also argue that, for many of us in the middle class and above, we must get out of our own way. We must remove, "That's how we've always done it," or, "I can only do what's best for my family," and, "I'll leave that to the experts" from our vocabulary.
Also at the CICF event, one of the most significant births for Indianapolis' black community was unveiled and celebrated with great fanfare. The African American Legacy Fund of Indianapolis is here! The fund "is a collective philanthropic initiative working to improve life-affirming outcomes for African Americans in our community." This fund's founders saw the vision and pushed to make it a reality. It will take an entire community's continued support to realize its dreams.
On the same day CICF rolled out its strategy, Child Advocates of Marion County won the "Leadership in Diversity" award for its work in hosting Undoing Racism workshops that have penetrated this community like no other training we've ever seen.
The future of our city is bright, and much different than pessimists might foretell, due to the courage and perseverance of white leaders pushing through discomfort and acknowledging that, in order to get different outcomes, we must do things differently.
Now, it's our turn to support the mission and move the needle! In Indy, the marathon has just begun.•
__________
Slash is a diversity and inclusion consultant in the health care industry and is president of The Exchange at the Indianapolis Urban League.Send comments to [email protected]
Click here for more Forefront columns.
Please enable JavaScript to view this content.