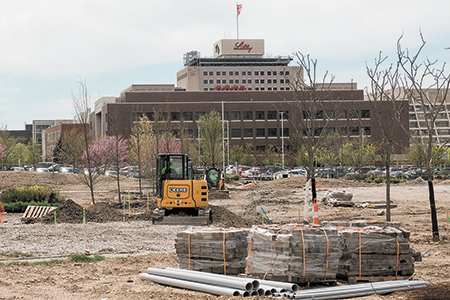 The newest park in Indianapolis is springing up in a booming area on the south side of downtown, a district quickly filling up with apartments, offices and retail—and a noticeable shortage of public green space.
It's a three-acre parcel on the northern edge of Eli Lilly and Co.'s corporate headquarters and just across South Street from CityWay, a development that includes 650 apartments and tens of thousands of square feet of office and retail space built over the last decade.
Lilly, which owns the land, is donating it to the city and is creating a public park, to be called South Street Square. The pharmaceutical company also will maintain the park. Work began last fall, but Lilly said it doesn't have a timetable for the park's completion.
South Street Square will feature walkways, flowers, shrubbery and more than 200 trees. It will also provide an assortment of conveniences—including benches and USB and power outlets for people who want to stay plugged in outside—and 50 light poles to provide safety after sunset. Workers have already built concrete walkways around and inside the park.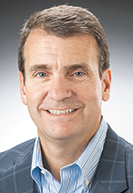 O'Connor
Lilly officials briefly outlined the park last month to city officials as part of a presentation over the company's request for $7 million in tax abatements for an expansion of insulin production at its technology center just southwest of downtown—a proposal that won approval.
"As our downtown neighborhoods have grown, there is a dearth of public space," Michael O'Connor, Lilly's senior director of state government affairs, told the City-County Council's Metropolitan and Economic Development Committee.
"We have donated new space and we're developing it, a park for the Indianapolis Parks Department on our property."
It's the latest example of public-private partnership for public green space in Indianapolis, a trend that is growing nationally as cities are hard-pressed to fund, operate and maintain public parks and are increasingly turning to the private sector for help.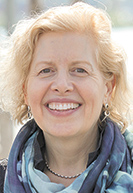 Nagel
Urban-parks advocates welcome the move, saying such partnerships help transform underused or neglected land into thriving public space for all to enjoy. In Tulsa, Oklahoma, private donors recently helped raise $450 million for a waterfront park called Gathering Place to help revitalize a rundown section of the city overlooking the Arkansas River. In Chicago, private donors raised much of the funds to convert land previously used as parking lots and rail yards into Millennium Park, which opened 15 years ago and is considered a crown jewel of downtown.
"You could probably look at every city in the U.S. and see examples," said Catherine Nagel, executive director of City Parks Alliance, a Washington, D.C.-based organization that advocates for urban parks. "Over the last several decades, we've seen the growing trend of public-private support for parks."
Why? Because cities are realizing that urban parks are important for quality of life, she said. Increasingly, people—particularly young singles and families—want to live in walkable, mixed-use districts with plenty of spaces for work and play.
"Cities are recognizing the need for open space in densely built-out areas, as well as providing spaces for kids to play if they're living in urban, residential units without a back yard," she said.
Much-needed oasis
For the past 10 years, Lilly used the site for a small nature walk and "sustainability garden," featuring a rain garden, wildflowers, beach grasses and other native plants. Lilly had developed that garden in 2009 in conjunction with Keep Indianapolis Beautiful.
Andrews
Lilly's contractor, Shiel Sexton, said the new project will transform the space into something more suitable to the area.
"The intent is to make it more welcoming and a public space," said John Andrews, the construction company's vice president of business development and marketing.
In recent months, workers have planted trees and shrubs. Bulldozers have been pushing up mounds of earth and smoothing paths for concrete walkways. Off to one side, pallets of brick pavers lie in wait.
"The new bit of landscaping is a modern green space that will transform into a peaceful escape within the city," according to Shiel Sexton's website.
The park will offer sweeping views of the city, with downtown skyscrapers to the north, Lucas Oil Stadium to the west, Lilly's corporate campus to the south and a landscaped green hillside and the Indianapolis Cultural Trail to the east.

It will also add a much-needed oasis to a bustling district that has sprung up in recent years as part of Buckingham Cos.' CityWay project, a mixed-use development that includes The Alexander boutique hotel, the Irsay Family YMCA, a Franciscan Health urgent care center, restaurants and shops. The development's 650 apartments make it by far the biggest apartment project downtown.
City officials say the park will provide needed recreational space for the swelling population in the area—and is a good deal for the city, since Lilly is picking up all the costs to develop and maintain the park.
The additional green space "for public recreation at no additional cost to Indy Parks would be a win-win for area residents and the city's bottom line," said Taylor Schaffer, a spokeswoman for Mayor Joe Hogsett.
Lilly estimates annual maintenance costs at $40,000. It did not have a figure for the cost of developing the park, or the value of the land.
Partnerships
In Indianapolis, other parks and green space have blossomed in recent years from public-private partnerships. The Lilly Endowment helped fund several of them, including the Taggart Memorial at Riverside Park, which is being transformed into an outdoor amphitheater, and the trails on the west side of Eagle Creek Park.
A donation from the Indianapolis Colts helped fund the Colts Canal Playspace, a park and playground at the head of the downtown canal. Tarkington Park, at 39th and Meridian streets, was revitalized through a mix of public and private funding.
Getting support from the private sector might be especially critical in Indianapolis, a city that ranks low in the amount of public parkland.
According to the Trust for Public Land, a San Francisco-based not-for-profit focused on conserving land for public use, Indianapolis has only 13.4 acres of parkland per 1,000 residents—far below other, similarly low-density cities, including New Orleans (71 acres), Nashville (52 acres), Kansas City (37 acres) and Louisville (23 acres).
The organization also pointed out, in its 2017 "City Park Facts" report, that only 32% of Indianapolis residents live within a half-mile of a park and don't have a major obstruction, such as a freeway, or river, blocking their path.
That's lower than Boston (98%), St. Louis (90%), Milwaukee (88%), Cleveland (79%) and dozens of other cities.
But the new park seems to provide a step in the right direction in making more green space available to the public and providing a stopping-off point for people using the Cultural Trail.
"With limited resources, that often means engaging in private-public partnerships," Schaffer said, "that allow the city to do more with less."•
Please enable JavaScript to view this content.