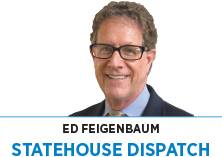 As Hoosier lawmakers wrap up the 2019 legislative session after addressing assorted needs, something seems lacking as we look back: a look to the future.
While the General Assembly filled some holes in the law discovered by the increasing use of such services as Airbnb, rental scooters and peer-to-peer vehicle sharing, nothing was done to examine the framework behind some of these popular new concepts.
Also on the rise but unaddressed by lawmakers are disruptive technologies, which will grow with the internet of things and present assorted complications about data use, sharing and security.
Recognizing such issues would increase in frequency in the coming decade, a handful of younger lawmakers a few years ago convened a "Millennial Caucus" designed to educate themselves and colleagues on the challenges and opportunities and address these nonpolitical items in a data-informed, nonpartisan manner.
As national issues and interests intruded, some members shied away from the effort and the caucus quickly faded into oblivion. But the issues they sought to involve themselves with have certainly not disappeared.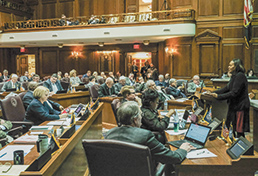 Lawmakers acted to capture tax revenue from peer-to-peer sharing services during the 2019 legislative session. (IBJ file photo)
While the approach failed to catch on, it did confirm the General Assembly was bereft of a mechanism by which issues related to new concepts or technologies could be identified so lawmakers could consider how to appropriately and effectively legislate in a new milieu.
The General Assembly does a solid job of drafting bills, thanks to an experienced and dedicated staff of Legislative Services Agency attorneys. LSA also has a capable team of fiscal analysts who perform excellent work scoping out revenue and expenditure consequences of each piece of legislation.
Where the Legislature falls short is recognizing and coping with novel issues and technologies.
A ride- or vehicle-sharing bill can be riddled with insurance, liability, licensing, titling and taxing concerns that go unaddressed. And did anyone anticipate how short-term home-rental laws could lead to rental units being chopped up into what are effectively bed rentals?
Then there are all the technology issues wrapped up in internet-of-things concepts that are difficult for solons to process. Some are simply gratified they have a television remote, much less one that is part of their phone that also operates their garage door and home security system and starts their car.
From 1972 to 1995, before national budget concerns in the Newt Gingrich era forced its demise, the Office of Technology Assessment provided Congress and its committees with objective and authoritative analysis of the complex scientific and technical issues of the late 20th century. The Congressional Clearinghouse on the Future, dissolved in 1994, took a broader and more policy-oriented view.
The time might be nigh for the General Assembly to add a component to the LSA that offers members an independent means of identifying and analyzing these types of issues and their anticipated effects.
Also, some former lawmakers now involved in academia who have special technological and policy expertise in these fields could be retained to provide advice, guidance and relevant insight based on their understanding of the legislative context.
Another model that could be considered is that of the Regulatory Flexibility Committee, the legislative interim panel that monitors utility competition, industry evolution, technological change, rates and regulatory models and makes annual recommendations based upon these factors.
The world in which we live is rapidly changing, but the manner by which lawmakers facilitate, regulate and tax it is not. Some involved in the system are starting to clamor for forward-looking change.•
__________
Feigenbaum publishes Indiana Legislative Insight for Hannah News Service. He can be reached at EDF@hannah-in.com.
Please enable JavaScript to view this content.