Todd Saxton likes to keep busy. An associate professor of strategy and entrepreneurship at Indiana University's Kelley School of Business, he has taught thousands of graduate students through three MBA programs, including a program specifically for doctors. He serves on numerous advisory boards for business startups and funding networks. In April, he was appointed to the additional job of vice president for business development at Regenstrief Institute, a medical-research organization based in Indianapolis. Saxton, 55, has completed four Ironman triathlons, including one with his wife, Kim, a clinical professor of marketing at IU.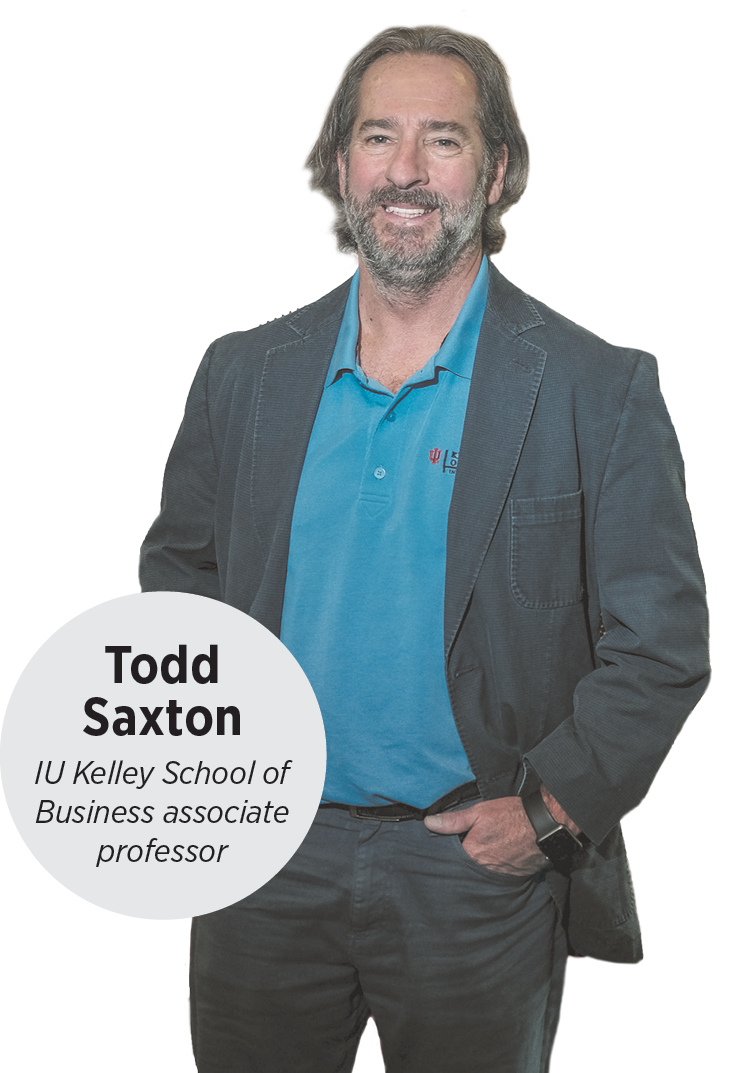 How long have you had the entrepreneurial bug?
I was one of those kids who sold newspapers on the corner in front of the grocery store in New Jersey. That was my summer gig. From the time I was 7, I was hawking newspapers, and eventually I inherited my brother's newspaper route. And then my parents co-financed a lawnmower in exchange for me mowing our lawn for free; I then got to use it to go out and mow other people's lawns for money.
Businesses love to create mission and vision statements. Give me one for your new role at Regenstrief.
I would say my new role is to help Regenstrief be even more successful in bringing innovation and technology to the practice of health care. I am hoping that Regenstrief can become a model nationally for translating research and thought leadership to the practice of health care through sustainable innovation.
What's your plan for doing that?
I think Regenstrief has a tremendous history of inventing and innovating and communicating that through research. It has not been as active in commercializing that intellectual property. So taking some of the thought leadership that Regenstrief has been building for decades and converting that into commercial opportunities—whether that's through licensing or launching ventures.
Are most doctors natural entrepreneurs?
In my experience, I would say doctors are natural innovators. They are always looking for new solutions to allow them to better treat patients. They are very creative in how they practice. The entrepreneurial part that does not come naturally is twofold. One, how to think about the business model and the commercialization of the innovation they're engaging, and those are teachable skills. The other part is, they are not very good at institutionalizing their own ideas or ideas generated elsewhere, particularly in hospital systems.
What was the single best health care invention of the last 50 years?
A lot of pharmaceuticals, including from Eli Lilly and Roche, have been transformational in specific disease states. I would say the biggest latent innovation that has yet to prove real fruit is the electronic health record, which incidentally was pioneered by Regenstrief in the late 1970s and became much more institutionalized over the last five to 10 years, largely due to regulatory pressures. But now the practice of health care has to shift from information—which is what health records are really good at capturing and storing—to communication. How do you leverage information by helping care teams communicate with each other more effectively and communicate better with patients?
How do you and your wife find the time to train for Ironman triathlons while holding down all these positions? Isn't Ironman training nearly a full-time job?
It is, indeed, which is why we have not trained for one since 2013! But it is on the bucket list to do another, so I had better stop taking on additional jobs and start focusing on that bucket list.•
Please enable JavaScript to view this content.