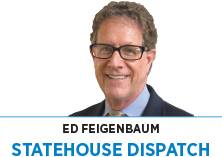 Everyone has a different definition of fun. But working early in the morning and late at night probably isn't high on the list for most Hoosiers. Neither is being stopped with questions, sometimes even harassed at the grocery store or at dinner, and making tough choices between often-imperfect alternatives.
Despite all the down sides to being a legislator, however, many find satisfaction in helping their neighbors and the state as a whole. While this still typically doesn't climb particularly high on the carnival-game fun scale, things seemed a bit different in the Indiana General Assembly this year.
For the first time in decades, we heard in different post-session forums several lawmakers, numbering in the double digits, characterize the 2019 legislative session as "fun."
Just as intriguing, however, was the inability of those lawmakers to describe what made this session feel so different. There was, after all, the divisive bias crimes bill and changes to it in the Senate and House that led to finger-pointing; a controversial abortion bill; the payday loan bill that caused division; a tough-to-shape gambling expansion measure; firearms bills that saw philosophical splits; and odds and ends that resulted in other assorted sparks.
So what made this session—which, from the outside at least, looked much like sessions of the past—more enjoyable for lawmakers?
We'll speculate that 2019 had a certain sense of freshness.
Senate President Pro Tem Rodric Bray, R-Martinsville, was that body's first new leader in 12 years, and only the third to serve in that post since 1980. And following several years of budget leadership by former Sens. Luke Kenley, R-Noblesville, and Brandt Hershman, R-Buck Creek, Sen. Ryan Mishler, R-Bremen, was in his first budget session as chair of the Senate Committee on Appropriations. Sen. Travis Holdman, R-Berne, was doing the same at the Senate Committee on Tax and Fiscal Policy.
In the House, Rep. Phil GiaQuinta, D-Fort Wayne, was a first-term Democratic leader, and the majority fiscal leadership was altered by a motorcycle accident last year that relegated House Committee on Ways and Means Chair Tim Brown of Crawfordsville into second chair on budget negotiations, with Rep. Todd Huston of Fishers assuming the lead role.
The personnel changes cleared the way for some new thinking and led to greater and broader involvement. Even some freshmen appeared pleased, believing their concerns had been heard, which might not have been the case over the past few decades with veteran budget negotiators and preconceived attitudes.
Indeed, the freshmen, particularly on the House side, were key players on some major bills, with Rep. Chuck Goodrich, R-Noblesville, out front on workforce issues, and Rep. Tonya Pfaff, D-Terre Haute, featured prominently by Democrats on education issues.
Many freshmen served as advisers to assorted conference committees, and some were even named as conferees. Others, such as Rep. Ethan Manning, R-Denver, impressed with their general acumen, adapting quickly to the legislative process and showing fellow freshmen that ability and personality—not seniority—were keys to legislative success and enjoyment of the process.
While there were the usual instances of rulings from the chair adverse to Democrats, House Speaker Brian Bosma and Senate President Suzanne Crouch never seemed to take pleasure in rendering them, and both seemed even more comfortable, enthusiastic and humorous at the rostrum than in years past, setting a positive tone.
The positive attitude with which the session began seemed to linger, with lawmakers disagreeing without being disagreeable. That led to some good new experiences and relationships that should make the short session even more fun next year.•
__________
Feigenbaum publishes Indiana Legislative Insight for Hannah News Service. He can be reached at EDF@hannah-in.com.
Please enable JavaScript to view this content.