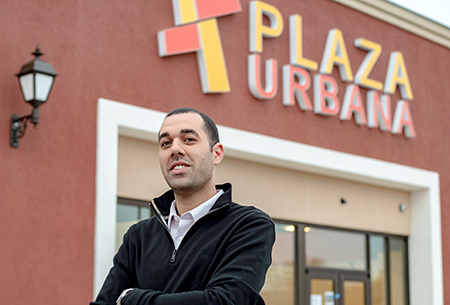 Following a multimillion-dollar renovation, a far-east-side building that was on track for demolition two years ago is poised to emerge as a retail-startup hub that supporters say could revitalize a neglected part of town.
The property, called Plaza Urbana, is at 3827 N. Mitthoeffer Road, just north of East 38th Street.
Urban Offerings, in partnership with fellow Los Angeles-based developer Meridian Group Ltd., purchased the property in late 2015 for $577,000. Since then, it's spent more than $5 million to transform the tornado-battered eyesore into a cheerful multi-tenant space geared toward small and startup retailers.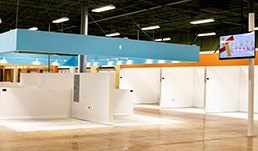 (IBJ photo/Mickey Shuey)
Most of the building, about 32,000 square feet, has been developed as a mercado—an indoor marketplace subdivided into about 85 small retail spaces.
Tenants will lease on a month-to-month basis. The smallest of the spaces, 120 square feet, will lease for $500 a month, making the spaces affordable to startups.
"The idea is to really help empower the local community to be able to start their business, to give them that opportunity to be an entrepreneur," said Urban Offerings Vice President Joe Lutz.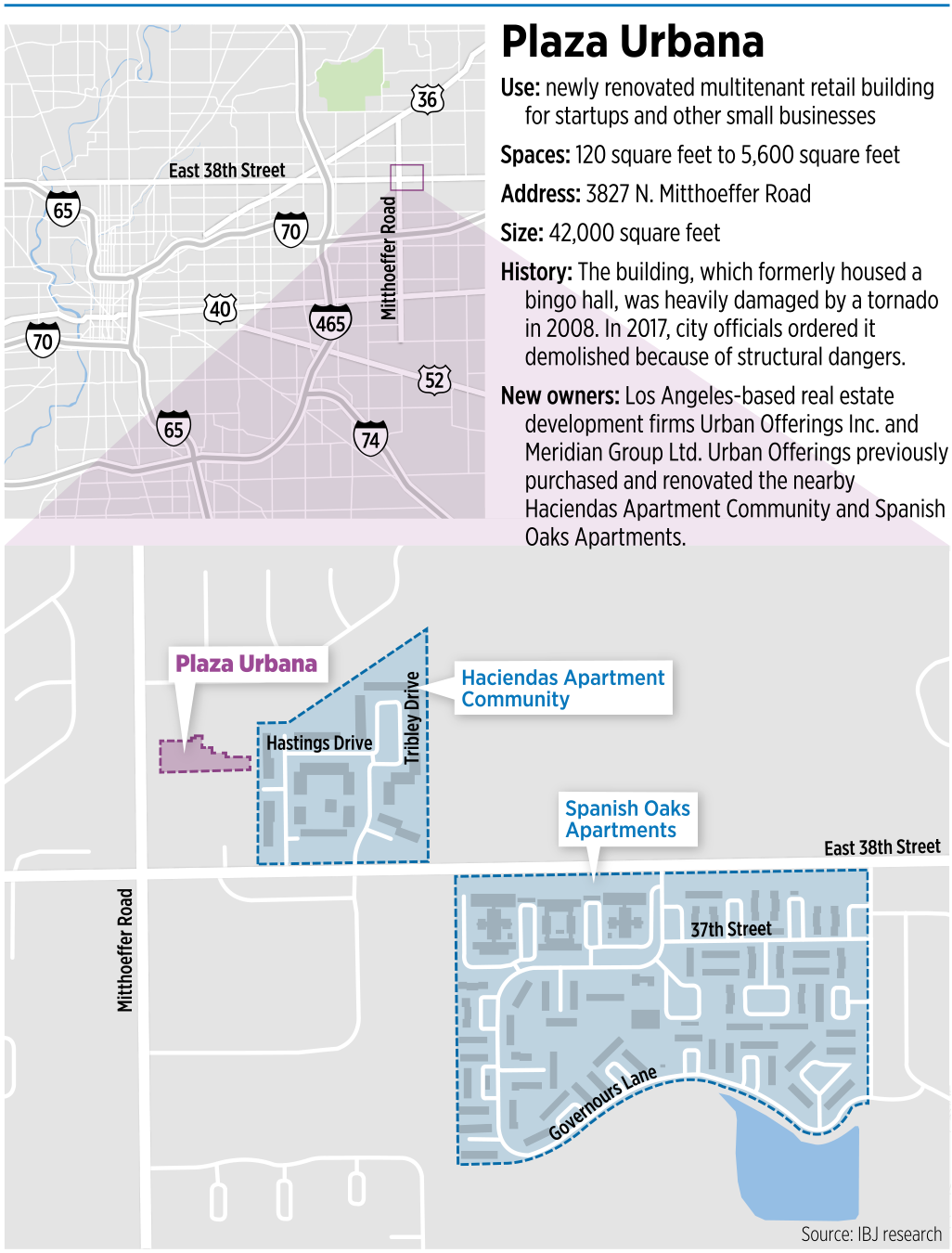 The property includes about 12,000 square feet of retail space facing 38th Street for a handful of larger tenants.
Plaza Urbana is in a part of town with many Hispanic residents, Lutz said, and the mercado concept is one that's popular in Latin American cultures. In addition to its shops and restaurants, Plaza Urbana will offer a children's play area and a lounge area, encouraging families to linger. "It's about shopping as an experience, shopping as an environment," Lutz said.
Urban Offerings, which mostly invests in office and residential properties, says it's bullish on the project and what it might do for a neighborhood that hasn't seen a lot of large-scale commercial investment.
"We see the neighborhood with different lenses," Lutz said. "I think, having an outsider's perspective, we see a lot of opportunity in the neighborhood and a lot of potential."
The renovations have totally transformed a building originally developed about 40 years ago as a retail center. The property, most recently used as a bingo hall, had been vacant and deteriorating for years. It was among several structures in the neighborhood damaged by a May 2008 tornado, and by early 2017 city officials had issued a demolition order for the property.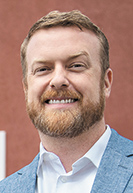 Lutz
According to city records, in March 2017 an inspector found a heavily damaged roof, mold, water damage and other serious structural issues. "Roof has holes that have been present for a long time," the report said.
Urban Offerings decided to remake the space on spec, meaning no tenants were signed when renovations began in 2017.
But so far, Lutz said, the space is about 15 to 20 percent leased. Signed tenants to date include Salvadorean, Honduran, Mexican and soul food spots, a tortilleria, an international food spot, a brunch spot, a wings restaurant, a smoothie shop and juice bar, a decorations shop, a party-favors shop, a wireless phone repair shop and a beauty salon.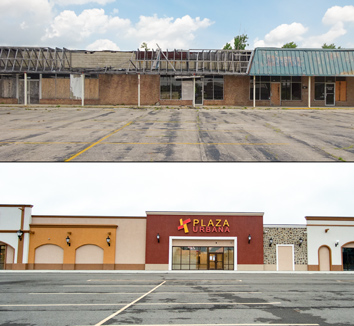 The 42,000-square-foot building, which was heavily damaged in a 2008 tornado, was in shambles when Urban Offerings and Meridian Group Ltd. bought it in 2015. Tbey have spent more than $5 million to renovate the property and create small spaces for businesses. (Photo at left courtesy of Plaza Urbana; photo at right by IBJ's Mickey Shuey)
The first tenants should be up and running this summer.
"The idea behind the mercado is, it's not traditional retail," Lutz said. "Typically, in this neighborhood, traditional retail tends to fail—or be done really poorly."
Plaza Urbana is in the 46235 ZIP code. According to data from the Polis Center at IUPUI, that ZIP code is home to just more than 33,000 people served by seven gas stations, three banks, eight discount stores and drug stores and five grocery stores, including a Walmart.
The neighborhood has one of the highest population densities in the state but lacks quality retail, banking and food offerings, said Ryan Brady, the philanthropic adviser to Glick Philanthropies and the director of stewardship at the Central Indiana Community Foundation.
"There's a major need," Brady said. "We're thrilled to see the private investment on the far east side."
Plaza Urbana will also have a coaching aspect to it.
General Manager Daniel Santana plans to offer his expertise to tenants who may need help with the ins and outs of starting a business—securing a business license, insurance and the like.
Before taking the job several months ago, Santana owned a retail business of his own—Grand Slam Sports, a sporting attire shop that at various times had locations in Terre Haute, at Castleton Square Mall, Circle Centre and at Clay Terrace in Carmel.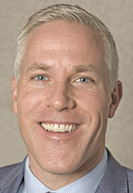 Brady
"I've been in their shoes before," Santana said. "I know how it is to come into the great unknown—a new shopping center—and open up the gate and see how it goes."
Plaza Urbana's location, and its focus on startup retailers, has attracted attention from local not-for-profit organizations that see the project's promise and want to become involved.
The Glick Philanthropies has made other investments on the far east side, and Brady said the organization is considering how it might support the Plaza Urbana project.
Nothing's been decided yet, Brady said, but Glick Philanthropies might help Plaza Urbana's retail tenants with things like business startup costs or business startup training. "We're trying to figure out how we can come alongside small businesses and entrepreneurs."
The Community Alliance of the Far Eastside, also known as CAFE, also wants to be part of the project, possibly providing Plaza Urbana tenants with on-site business education and entrepreneur services. "We could connect them with opportunities to learn how to start up a business," said CAFE CEO Michael Howe.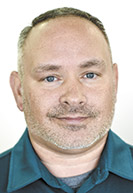 Howe
Howe is optimistic that the project will inspire further investment.
"Seeing new development and new activity in an area that's often considered a blighted area is very positive," Howe said. "This is a revitalization that, hopefully, will spark other retail establishments to want to move closer to that area."
Urban Offerings also owns two apartment complexes within a short walk of Plaza Urbana: The Haciendas at 3816 Trilbey Drive, and Spanish Oaks at 3645 Wingate Court. The company purchased Spanish Oaks in 2006 and The Haciendas in 2014, renovating each property after acquisition.
"We're invested in the neighborhood, clearly, as long-term owners," Lutz said. "We hope other people follow our lead and also find some belief in the neighborhood."•
Please enable JavaScript to view this content.