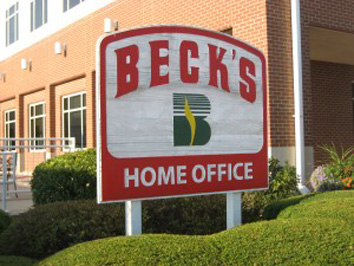 Beck's Hybrid's, the nation's largest family-owned retail seed company, announced Thursday that it plans to spend $62 million to expand its operations in Hamilton County and add 56 workers by the end of 2022.
The Atlanta-based company said the expansion would double its processing capacity of high-yielding corn and soybeans from 3 million to 6 million units per year over the next six years.
The expansion is expected to include construction of a new seven-story stand-alone processing tower, five new warehouses for seed and equipment storage, and office space for additional employees.
Construction will begin immediately and is expected to be completed by 2022, the company said.
Beck's, founded in 1937, employs more than 660 people at 16 facilities, including 375 full-time employees in Indiana. The company said it was hiring for positions in production, processing, research and data, and development.
The Indiana Economic Development Corp. offered Beck's up to $560,000 in conditional tax credits based on the job-creation plans. Hamilton County has approved a property-tax abatement for the project and agreed to improve roads near the company's headquarters at 6767 E. 276th St.
Beck's is the top-selling corn and soybean seed brand in Indiana and the third-largest corn and soybean brand in the United States.
Please enable JavaScript to view this content.