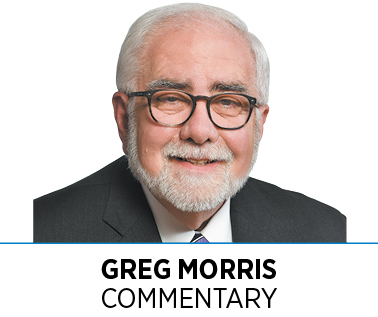 On a yearly basis, hundreds of thousands of hungry Hoosiers depend on food and other critical grocery items provided by Gleaners Food Bank of Indiana, which supplies hunger-relief agencies and schools throughout 21 counties in central and southeastern Indiana.
IBJ is proud to partner with Gleaners to raise awareness of the urgency of hunger and related issues and to continue the search for solutions to end food insecurity in our communities.
Gleaners recently hosted a midyear update for key stakeholders. The keynote speaker was Claire Babineaux-Fontenot, president and CEO of Feeding America, the largest hunger-relief organization in the United States, of which Gleaners is a network member.
Food insecurity describes a household's inability to provide enough food for every person to live an active, healthy life. In the United States, one in eight people struggles with hunger.
An annual study called "Map the Meal Gap," recently released by Feeding America, measures food insecurity and shows Indiana has more than 887,000 food-insecure persons, including 273,000 children. Marion County has 163,000 food-insecure persons, including 44,320 children, That's about one in five children living in the county.
Hunger has no boundaries.
Do you think because you live in Hamilton County or another affluent suburb that you don't have many food-insecure neighbors? There are more than 25,500 food-insecure persons in Hamilton County; 10,420 are children. No matter where you live or work, food-insecure people are just down the street wondering if they will have enough to eat today, tomorrow—every day.
And don't be seduced by those who would have you believe that people living in poverty brought this condition on themselves. According to Babineaux-Fontenot, the largest groups of users of the Supplemental Nutrition Assistance Program, known as SNAP, are children, the elderly, people with disabilities and household members with one or two jobs, in that order.
In this age of debate on what should be a basic right for those living in this great country, can't we all set our political agendas aside and agree on at least one thing—that everyone has the right to receive at least basic nutrition on a daily basis?
Here are some comments Gleaners CEO John Elliott made at the stakeholders' event.
"As community leaders working together, we can and must mobilize the necessary resources to resolve daunting, interconnected challenges simultaneously for our neighbors. With 40% food waste and 15% food insecurity in this country, we do not face a food shortage; we face a supply-chain opportunity.
"The challenge of hunger impacts crime, education, physical and mental health, worker productivity and diminished economic success. Hunger and resultant chronic illnesses are hurting Hoosier taxpayers, employers and our shared future. For my fellow fiscal conservatives, solving these challenges represents a massive cost-avoidance opportunity for generations of taxpayers.
"In fiscal 2018, Gleaners processed 33.6 million pounds, or 28 million meals—up 7.8% over 2017, but still only meeting 39% of the meal gap in our 21 counties. Across Indiana, our neighbors still miss 170 million meals a year. Gleaners supports 218 local food pantries, 248 mobile-pantry distributions, 55 school-based pantries and 243 BackSack schools."
I'll add that, in the last few years, Gleaners more than doubled food distribution, doubled its fleet, and quadrupled fresh-produce distribution. Would you join this endeavor and help keep Gleaners' positive momentum going? The need is urgent. Go to gleaners.org to find out more.•
__________
Morris is publisher of IBJ. To comment, send email to gmorris@ibj.com.
Please enable JavaScript to view this content.