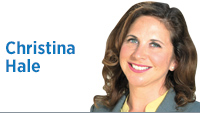 One of the most depressing sites in the Midwest is an expansive flat parking lot sprouting weeds. People who lived through the '70s and '80s all know what it means when that asphalt is broken up by scrap trees and crabgrass. It is hard not to see the ghosts of yesterday's industry.
Flashback to the not-so-distant past, and these lots were filled with the shiny big-engined American cars of hard workers. Breadwinners who were relied upon to support middle-class families. People who hustled to punch the clock and pay their bills on time. People who sent their kids to the YMCA for swim lessons and saved for retirement.
Now the pavement cracks in the old lots reflect the fractured families that suffered the many stresses of losing a living, a livelihood and a lifestyle that supported people who had contributed so much sweat equity to their own very personal American dreams.
When the box factory in Anderson closed, it hurt. Families that had gratefully believed they'd escaped the bloodletting of automotive jobs in Anderson found themselves struggling like their old neighbors after the GM plants closed.
In 2004, Smurfit-Stone Container, then the nation's largest packaging company, closed four plants and eliminated about 1% of its workforce. The largest loss by far was the plant in Anderson. When it closed its doors for good, 143 jobs were lost forever.
Enter hope. The economic evidence is clear and often cited that the most significant job growth in Indiana in the coming years will most likely be generated by small to medium-size businesses. The evidence is also clear that communities need entrepreneurs to step up when times get bad. And in Anderson, things got very bad. So bad that, at its worst, the unemployment rate was over 20%.
Lacinda Monday is one of the area's business leaders who decided to light a candle in Anderson rather than curse the darkness. Back in 2007, she recognized that Anderson had a base of people with manufacturing experience. She also saw a business opportunity in a local population full of people ready to go to work in the home community they loved, even as they had been so bereft of opportunity.
With her partner Kurt Voigt, she invested in that old box factory and they built Monday Voigt Products there. Today, MVP employs about 150 people. Their business is part of a certified Hubzone and she seeks out opportunities to hire adults living with disabilities. It is no wonder Lacinda was named a Great Lakes Women's Business Council Distinguished Business Leader.
I'm thankful to say other visionaries and entrepreneurs have taken a chance on Anderson as well. Together, Lacinda and others like her have contributed to a business climate that has seemingly achieved the impossible: Unemployment in the area is just under 4%.
Local government has also played a role in this success story, but it will take continued collaboration, investment and intention to ensure that momentum is continued. The working adults of today are raising families just like their parents had before them. Not everything is OK, and as successful as these companies can be, the business climate is capricious and subject to economic downturn. For these families to survive, thrive and support lives that become a little bit better off than the generations before them, continued effort is required.
How many more of these stories of opportunity are there in Indiana today? What will it take to encourage additional investment to discover and develop them?
We really, really don't want to drive by more weedy parking lots.•
__________
Hale is a former member of the Indiana House and ran for lieutenant governor in 2016 on the Democratic ticket. Send comments to ibjedit@ibj.com.
Click here for more Forefront columns.
Please enable JavaScript to view this content.