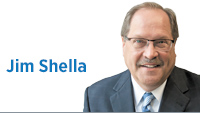 We all owe a debt of gratitude to Brian Lamb. The Purdue University graduate who founded C-SPAN and then manned the helm for 33 years just retired. He is responsible for the video coverage of everything that happens in Congress.
Before C-SPAN, the average voter saw only 10-second sound bites of debate on the floor of Congress. Now, we can witness everything from votes, to speeches, to protests, as well as committee and subcommittee hearings and news conferences. We can see it live, or we can access the archive.
It's transparency that is critical in a modern democracy. The Indiana General Assembly now posts video feeds online (the video is available for local stations to broadcast) of both floor sessions and committee hearings in a move that likely never would have come about if not for the C-SPAN example.
The same goes for municipal government. City-County Council meetings in Indianapolis are carried live (and repeated) on government channels supplied by cable companies as well as the city's website. Remote control cameras and microphones are installed in every committee room. (Full disclosure: I serve on the Telecom and Video Services board affiliated with this service.)
Yet that kind of transparency still doesn't exist in the judicial branch of government. The work Lamb started is not yet complete.
C-SPAN now replays audio tapes of U.S. Supreme Court arguments, but cameras are still banned in the Supreme Court chamber and most of the federal courtrooms in this country.
Efforts are ongoing to change that. Pilot projects experimenting with cameras in the federal courts began way back in 1991. The Southern District of Indiana was one of four districts around the country that took part in a three-year test. Cameras were present in both criminal and civil proceedings.
The pilot project won mostly positive reviews here. Nevertheless, the U.S. Judicial Conference voted to maintain the status quo and keep cameras outside the courtroom.
In the time since, there has been another, bigger experiment that produced similar results, and a currently ongoing pilot could yet produce more transparency in the judicial branch.
Meanwhile, cameras are permitted in the Indiana Supreme Court and in the State Appeals Court, but are still prohibited in Indiana trial courts, even though most other states permit them.
Media outlets in Indiana were on the verge of winning permission to enter the trial courts way back in the early '80s, but a camera crew from one Indianapolis station misbehaved, shooting video of activities in the Supreme Court chamber through a transom. A planned experiment was dashed—even though the incident didn't involve the lower courts—and still hasn't been revived. All are punished for the misdeeds of a few.
For me, it's hard to understand how that circumstance can continue. Concerns about cameras being obtrusive are now obsolete thanks to technology that has produced recording devices the size of a cigarette pack that make no noise. The pervasive nature of cameras in our society argues against the old idea that lawyers and witnesses will either be intimidated or feel the need to play to the cameras.
It's the 21st century, and the public deserves to know what goes on in our courtrooms just as much as it deserves to know what goes on in the legislative branches of government.
Once that happens, Brian Lamb's legacy will be complete.•
__________
Shella hosted WFYI's "Indiana Week in Review" for 25 years and covered Indiana politics for WISH-TV for more than three decades. Send comments to ibjedit@ibj.com.
Click here for more Forefront columns.
Please enable JavaScript to view this content.