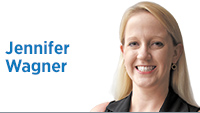 "This will be an easy meeting. We don't have an ask. We're just here to educate."
That was the opening line I used during a series of recent meetings on Capitol Hill.
The response from almost every congressional staff member with whom I was meeting? Visible, palpable relief. I wasn't there to lobby them on a specific bill or push them to convince their boss to support or oppose an issue.
I just wanted to spend 10-15 minutes introducing myself, sharing resources and offering to help in the future.
I've written before about how folks should be nicer to the people who make the proverbial trains run on time in government offices.
It's easy to be a public-facing elected official with a staff to support you. It's much harder to be the person who has to pick up the phone not knowing whether it's a constituent in dire need of help or the guy who calls every day at the same time spewing obscenities.
(When that happened in one of the offices where we were waiting for a meeting, the woman who took the call calmly explained—for probably the seventh time that week—that staffers cannot engage with callers who use those kinds of words. "Does that happen often?" I asked. "Yes," she said, "and we have a protocol for it.")
If it's important to be nice to everyone, it's equally important to remember that policy staffers are dealing with a million "asks" every day on the issues that fall within their portfolio. Oh, and they're not actually allowed to talk about how they feel personally about something. Their job is to listen, collect information and take it back to their boss for consideration. If it's an issue on which the elected official already has weighed in, that staff member has to relay that stance—kindly, gently and repeatedly—in every meeting.
I bring this up to highlight the constant push-pull between the transactional nature of many relationships—how we can both get what we need out of this engagement—and our very human desire to be treated like people, not widgets.
Everyone on Capitol Hill has a job to do. Those jobs are clearly defined, and people tend to cycle through them quickly. But that doesn't mean those people don't have feelings—or that they don't yearn for the occasional conversation where no one is asking them for anything.
There's a time and a place for lobbying and rallies and letters to the editor and phone banking. Those tactics are effective, but they can be exhausting for everyone involved. I'm thankful that there's also plenty of room for talking and listening, developing relationships that aren't based on immediate wants but on the underlying human desire to learn more.
As I always tell my kids, you don't know what you don't know until you ask, and asking questions—without an "ask"— might just be the best way to start a healthy dialogue.•
__________
Wagner is a lifelong Indianapolis resident and vice president of communications at EdChoice. Send comments to ibjedit@ibj.com.
Click here for more Forefront columns.
Please enable JavaScript to view this content.