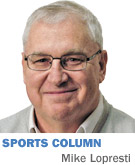 There are people who can't wait for Gregory Polanco to get out of Indianapolis. They are called Pittsburgh Pirates fans. They yearn for his batting average, for his quickness, for his talents. They yearn to see him in PNC Park, with the impatient hopes that always come when a hot prospect pops up on the radar screen.
It won't be long now. But before Polanco has come and gone from Victory Field, maybe we should get to know him a little. If his career matches his promise, he will be a face the Indianapolis Indians are honored to claim one day. Some of the scouting reports on him do everything but drool.
Or as manager Dean Treanor said the other evening, sitting in his office, "He's got a chance to be special."
Indianapolis should enjoy Gregory Polanco while it can. (Bill Gentry/Indianapolis Indians)
Once, Polanco was a little boy, watching both parents go off to work each day as police officers in Santo Domingo. Whenever there was daylight and a chance, he would take his glove and find a game. Your typical Dominican Republic child, with his young heart set on the major league gardens of America.
"All my life I played baseball. That is what I know," he said. "As soon I signed in 2009, I thought, all my dreams are coming close."
Now Polanco is 22, and an answered dream is one phone call away. He is living and playing in a strange place called Indianapolis, but don't ask him much about town, because he doesn't know.
The Indy 500? The Colts? The Pacers? The mention of each brings perplexed looks, as he stands outside the clubhouse, in a black shirt with the Pirates logo. But Victory Field, he knows like home.
"It is a nice city, but I don't have too much time to go out or anything," he was saying. "I go from my house to the ballpark, and the ballpark to my house.
"Tomorrow is the same thing. Every day."
His phone will ring soon, and it will be the Pirates, once they decide he has seen enough AAA off-speed pitches, and worked enough caroms in right field. The first major league game Polanco ever sees in person in his life will be his first one in a Pittsburgh uniform.
He must be anxious. Wouldn't you be? Minor league baseball means leaving for the airport at 4:45 a.m. Or an all-night bus ride from Scranton back to Indianapolis. That certainly has a fleeting charm.
But here's the thing, and it's important. As of this past Wednesday, Polanco might have been hitting .374 and speeding along in the fast lane toward PNC Park, but he's not so anxious to forget there are steps to take, and improvements to make.
"That's always in my mind, something pushing me," he said. "I have to keep working. If they call me today, if they call me in a week, if they call me in two months, I'm going to be ready to play.
"You have to wait until the time comes. When it is time, it is time."
Sound and solid thinking, likely due in no small part to parents who wear badges for a living. "They raised me the right way," he said. "They taught me to do the right thing, always."
Such qualities are highly appreciated by the man in the manager's office.
"The thing that impresses me more than anything is he understands he has things to work on," Treanor said. "I know there's a lot of clamoring going on for him. He's aware of that. But he comes here ready to work every day.
"It's tough to slow down, but he's not caught up in what's going to happen. From what I've been able to see, this guy is all about baseball and his career. It's kind of refreshing. The fans here have taken to him, and I think he can sense when we're on the road, he's somebody the fans want to look at and see, is this the real deal?"
Each day, Polanco works on hitting, running, playing in right field, which is a new position. He had been in center for years, but there is a guy named Andrew McCutchen currently manning that spot for the Pirates. Now is not the moment to be trying to win the centerfield job in Pittsburgh.
It takes time. Through Wednesday, Polanco had 183 at-bats on the AAA level. McCutchen had 780 before joining the Pirates. So the Indians force feed Polanco on the nuances of baseball, intending to have him ready for his future. "The worst thing you could do," Treanor said, "is rush him."
Outposts such as Indianapolis serve the same purpose as O'Hare; a layover spot for people on their way to somewhere else. "I can't imagine how happy I'm going to be, because I've been waiting a lot," Polanco said of the day he becomes a Pirate. "I'm going to be proud of myself."
First thing he'll do is call the parents back home, because he does that every day. Indianapolis should enjoy this kid while it can.•
__________
Lopresti is a lifelong resident of Richmond and a graduate of Ball State University. He was a columnist for USA Today and Gannett newspapers for 31 years; he covered 34 Final Fours, 30 Super Bowls, 32 World Series and 16 Olympics. His column appears weekly. He can be reached at mlopresti@ibj.com.
Please enable JavaScript to view this content.