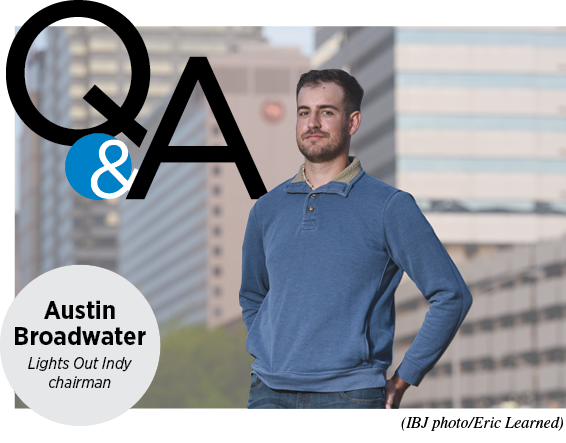 Austin Broadwater loved birds as a kid and dreamed of becoming a veterinarian. His Eagle Scout project entailed building bat houses in Valparaiso.
But as a student at Wabash College, he found that medical classes like cellular biology and genetics weren't his bag, so he shifted to biology as his major. He also played on the defensive line for Wabash's football team and was a varsity letterman in his senior year.
While pursuing a career in environmental science, Broadwater volunteered for the Indianapolis Zoological Society, Mary Gray Bird Sanctuary and Indiana Department of Environmental Management. Now 28, he is the volunteer chairman of Lights Out Indy, a program of the Amos W. Butler Audubon Society. He encourages owners and managers of large buildings downtown to turn off or dim their lights at night during the spring and fall bird migration seasons.
The selling points are reducing the number of birds that collide with the buildings while saving energy. The U.S. Fish and Wildlife Service has estimated at least 100 million birds die annually in America due to building collisions.
Why do birds fly into buildings at night?
They use the stars to migrate. That's part of how they navigate, so when they enter metropolitan areas and see all these lights, they get confused. They think they're stars, and they start flying around in circles. They get exhausted and they'll either drop or they'll hit a window way up and hit the ground.
What kinds of birds are typically impacted?
Cardinals, robins, warblers, all the pretty birds. A lot of songbirds. Early in the season, we get a lot of woodcock reports. We had a lot of brown creepers, which are tiny birds that climb up the sides of trees. Brown thrasher has been a common one.
When you talk to building owners or building managers, what is the most common pushback?
Some of them will say the lights are there for safety. Some of them say the lights would need to be reprogrammed and sometimes that's difficult. We do try to let them know they could save hundreds of thousands of dollars just by turning off the lights for a few hours a night. Every little bit helps, and we can also help with the bird-safe building practices. There's bird-safe glass or there are different varieties of bird tapes or decals that you can put on your windows. We can't see them, but the birds see them.
How long have you been into birds?
Ever since I was 7. I'd read my bird guides for fun. I was the weird kid that liked birds. I would go to these birding groups and I'd be the only person under 65. But birding has actually become a hipster kind of thing to do lately.
I think the flying thing intrigued me. When I was really little, I wanted to be a pilot. Man has always been enthused by flying. I also think it's just the variety of birds. There are so many different types, so many different colors. It's almost like birding is Pokemon Go in real life.
How many other birders were thereon the Wabash football team?
I didn't know anybody who was really birding. But there were guys who were into nature or fishing or hunting. But, yeah, I didn't really know anybody my age who birded until a few years ago. I'm so glad I found the Facebook groups, because once I found them, it was like, "There's actually people my age who do this?"•
Please enable JavaScript to view this content.