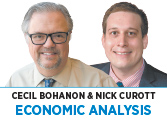 A student loan debt crisis is mounting. Over the last 15 years, total student loan debt exploded from $600 billion to more than $1.5 trillion and now exceeds credit card debt.
The average student loan debtor owes $32,731, with 2.5 million borrowers owing more than $100,000. Meanwhile, the delinquency rate on federal loans increased from 7.4% to 11.8%, and the default rate increased from 3.8% to 9.1%. This is an unsustainable bubble headed toward collapse.
So what went wrong? Student loans are supposed to be a win for everyone involved. Individuals who otherwise couldn't afford college earn a degree, and the expenses are repaid out of the higher future earnings made possible from education. This is exactly what happens when private banks make student loans. For-profit institutions have an incentive to give loans to students who invest in educating themselves in subjects that pay off in the future. 98% of private loans are repaid, and banks make a normal rate of return.
In contrast, loans made by the U.S. Department of Education are given indiscriminately and in virtually unlimited amounts. And the interest rates are subsidized at less than market rates. Federal subsidization of higher education has enabled students to choose unproductive majors and resulted in the proliferation of lifestyle amenities like lazy river water parks on college campuses.
Since 1980, college tuition has increased eight times faster than the general inflation rate. Federal Reserve economists estimate that, for every dollar of increased education spending made possible by student loans, 65 cents has gone toward simply bidding up tuition and fees and only 35 cents toward increasing educational resources. Government subsidization has also contributed to credentialing inflation and lengthened the education process.
Meanwhile, the Department of Education, now the nation's fifth-largest bank, has mutated into the nation's largest predatory lender. Those burdened by crushing student loan debt are disproportionately disadvantaged. Whereas only 9% of white college students age 18-29 are behind on loan repayments, 26% of blacks and 24% of Hispanics are behind. And 22% of first-generation college students are behind, compared with only 5% of those who are not first generation.
Student aid has failed to achieve economic equality and has arguably made many of the people it is intended to help worse off. Politicians are proposing Band-Aid solutions like lowering the cap on subsidized loans and debt forgiveness. Instead, they should be investigating ways to ensure lending goes toward educational investments for everyone that are truly worthwhile.•
__________
Bohanon and Curott are professors of economics at Ball State University. Send comments to ibjedit@ibj.com.
Please enable JavaScript to view this content.