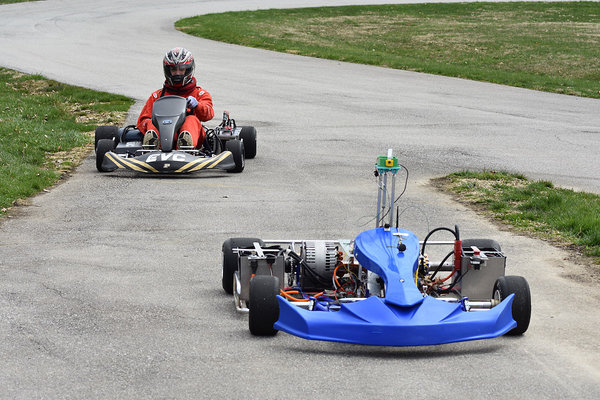 Later this month some of the world's best open-wheel race car drivers will look to take the checkered flag at the Indianapolis 500 and guzzle a bottle of milk in the winner's circle.
But one of the big winners this may at the famed Indianapolis Motor Speedway won't be drinking any milk. That's because it will be an autonomous car.
Purdue University Motorsports will showcase its evGrand Prix for high school and college divisions May 14 and 15. As part of the event, autonomous karts featuring some of the newest technology will race on a temporary track built inside the Indianapolis Motor Speedway grounds for the Student Karting World Finals. This is the second year unmanned karts have been part of the event.
The evGrand Prix is one of numerous events celebrating Purdue's Sesquicentennial. The yearlong celebration is highlighting Purdue's history, while focusing on what steps Purdue can take to address the world's problems. One of the four themes is "Artificial Intelligence, Algorithms and Automation: Balancing Humanity and Technology."
"The autonomous division brings a new level of engineering design to the program, requiring more in-depth knowledge of sensors, software and even artificial intelligence," said E.J. Williams, an electric vehicle expert and support staff for evGrand Prix. 
The karts competing at the evGrand Prix, manned and unmanned, are lithium-powered.
Collegiate autonomous karts will practice both days, with racing on May 15. 
Both days will start at 8 a.m. with tech inspection, team meetings, numerous practices and qualifications scheduled throughout the day prior to the races.
The races are included as part of the daily gate admission at Indianapolis Motor Speedway. IndyCar will be having practice sessions on the track on May 14-15. 
"These are not just races for the high school and college students," said Danny White, manager of Purdue Motorsports and K-12 Schools Partnerships, in a statement about the event. "These projects have a large economic development and STEM (Science, Technology, Engineering and Math) components, especially as the auto and racing industry both have deep ties to Indiana."
He said autonomous, electric-powered transportation will continue to grow, particularly as other countries ban or limit gas-powered engines.
"This upcoming transition will be the largest disruptive technology shift we have ever seen, larger than when we went to mechanized transportation," he said. "We need to make sure that we are teaching the students relevant engineering and technology for their future and what will also be relevant and continue to produce the types and caliber of students that will attract manufacturers to relocate to Indiana or find our students a new refreshing and up-to-speed resource they are so desperately seeking."
Purdue is on the forefront of studying autonomous vehicles.
Karthik Kannan, management professor at Purdue University's Krannert School of Business and director of the school's Business Information and Analytics Center, doesn't think the reality of driverless vehicles hitting the road en masse is all that far away.
Purdue's Discovery Park is looking at the future of smart mobility and by 2025, Kannan thinks we'll see a proliferation of self-driving vehicles. And he said those vehicles could look radically different from what we know today.
"We should not think of autonomous cars as extensions of today's cars," Kannan said. "Auto companies are starting to really think differently about this. We're re-defining what mobility looks like."
For the evGrand Prix, college teams build their own powertrain and kart. Both use electric batteries in place of gasoline or ethanol as a fuel source. While specifications are used in many instances of racing, teams also are allowed to experiment with certain aspects of the car.
For the autonomous karts, teams implement a variety of computer systems and sensors to navigate the track. The leading manufacturer of Lidar sensors, Velodyne, donated a $5,000 sensor to each autonomous team this year. High school and collegiate teams are encouraged to go out in their communities to find local sponsors for their kart as well.
 
Please enable JavaScript to view this content.