A local development company that specializes in multifamily housing projects has undergone a change in top leadership resulting from the retirement of two longtime executives.
TWG Development LLC principals Joe Whitsett and Dennis Dye stepped down from their roles with the company in April. Whitsett co-founded the company in 2007 with his stepson Tony Knoble, who has taken over as CEO after almost 12 years as president of the firm.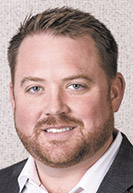 Tony Knoble
Justin Collins, 36, former controller for the company, has been promoted to chief operating officer.
TWG, a regional affordable, market-rate and senior housing project developer, has constructed more than 7,600 residential units in 13 states. Among its numerous local projects are 333 Penn Apartments, 707 North Apartments, Lockerbie Lofts, Pulliam Square Apartments and Penn Street Tower.
The company has invested nearly $460 million into already completed projects, with another $400 million in investment and 2,100 units in the pipeline.
Dye and Whitsett left the company amicably and "there are still some projects (they) are working on" with TWG, Knoble said.
"This is something each of them has been thinking about for some time," he said. "The economy's great—it was just the right time and just kind of made sense for everyone."
Knoble, 36, bought out Whitsett's financial stake in the company through a financing deal backed by Centier Bank last month, but he declined to share how much that was worth.
Dye's share was purchased last year, he said.
Whitsett, 59, has been involved in Indianapolis' multifamily housing market for nearly three decades. With degrees in accounting and law from Indiana University, he spent 14 years at Ice Miller LLP, specializing in subsidized housing tax credit programs, before joining Pedcor Investments in 2005 as a developer.
Whitsett left the company in 2007 to help found TWG.
Dye, 55, joined TWG in 2013 and oversaw site evaluation and acquisition for the company, while also providing oversight to its financial operations. Dye, who received an accounting degree from Butler University and and an MBA from IU, previously spent 10 years at Browning Investments as its executive vice president.
Knoble, a 2017 IBJ Forty Under 40 pick, said TWG's operations won't change as a result of the leadership shift, and he noted that he and Collins "work extremely well together."
"There's no real change; we're still going to be heavily involved in and focused on affordable housing," he said.
He said the company is considering projects in additional states.
Knoble's sisters, Elizabeth Heintzleman and Anna Barabas, also sold their shares in the firm and plan to pursue other interests, he said.
Please enable JavaScript to view this content.