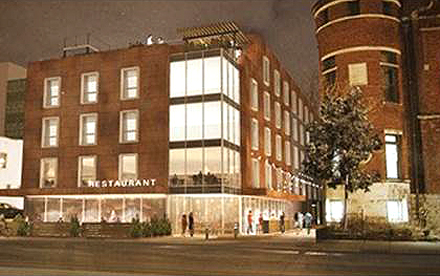 The Indianapolis City-County Council on Monday voted unanimously to approve up to $7 million in developer-backed bonds for two downtown real estate projects near Mass Ave.
The project, known as Block 20, consists of developments on two sites and is estimated to cost $40 million.
One is a mixed-use project with 76 apartment units, 6,000 square feet of retail and a 255-space parking garage at 428 N. East St., next to the Athenaeum.
Two blocks away, at 602 N. Park Ave., there are plans for an office and retail development, with 40,000 square feet of high-end office space and 6,500 square feet of retail. There also will be renovations to a nearby historic building.
The bonds will be repaid through property taxes generated by the projects. If there is a shortfall, project developer Chase Development will be on the hook.
The project has sailed through the council, despite a last-ditch effort to derail it by some people opposed to the development. IBJ previously reported that the development's critics had accused developer Dan Jacobs of unprofessional conduct.
However, that effort seemed to fizzle at a council committee meeting in April, where committee chairwoman Maggie Lewis prevented either party from addressing the allegations as they discussed the project.
There were no comments from the public or from council members at Monday's meeting. The only vote not cast in favor of the project was by Jason Holliday, who abstained due to a conflict of interest.
Please enable JavaScript to view this content.