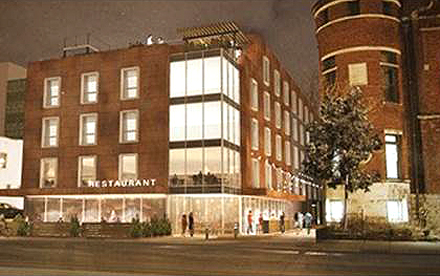 The developer of two mixed-use projects south of Massachusetts Avenue downtown is being accused of unprofessional conduct, days before city officials are scheduled to consider his request for bond funding for the projects.
Dan Jacobs, president of Indianapolis-based Chase Development Inc., is accused of berating opponents of one of the projects, according to local attorney James Gilday. He represents a group of nearby residents who went to court in 2017 to try to block it but were unsuccessful.
Jacobs made unwanted attempts to contact Gilday and at least one remonstrator and used inflammatory and profane language in the process, according to Gilday.
Gilday now is sharing that information with city officials as Jacobs prepares to seek approval to receive up to $7 million in developer-backed bonds on Monday from the City-County Council's Metropolitan and Economic Development Committee. The proceeds from the bonds would be used to help build the projects.
In an April 10 letter to members of the committee, Gilday states Jacobs exhibited "deeply troubling actions and behavior" against his clients—and Gilday himself. He argues the incidents "should give the utmost pause" to the committee.
"You … are asked to avoid the substantial risk posed by Mr. Jacobs and deny him any public monies … based upon his self-demonstrated absence of character and fitness," Gilday's letter said.
Asked by IBJ to comment on the allegations sent to the committee, Jacobs responded with a statement.
"I have spent the last four years working with representatives from the Athenaeum Foundation, the City, neighborhood groups, and other stakeholders to bring this project to fruition," the statement reads. "I have been a strong supporter for the project, which is good for both the neighborhood and for Indianapolis. Some parties who opposed the project and did not prevail after two years of litigation have now taken renewed steps to stop the project, this time by making personal allegations against me.
"It is understandable, amid lengthy litigation, that emotions have surfaced at times on both sides. Nonwithstanding the opposition, my focus remains on finishing the project and helping it bring an impactful, needed development to Indianapolis."
Gilday's clients were opposed to a project referred to as "Block 20," which entailed creating a four-story apartment building and 255-space parking garage next to the historic Athenaeum building at 428 N. East St. The apartment building would have at least 75 units along with 6,000 square feet of retail space. A large portion of the retail space is expected to house a to-be-determined restaurant.
Jacobs' bond request also would apply to a project at 602 Park Ave. It would include a 40,000-square-foot commercial building with high-end office space and 6,500 square feet of retail space, along with renovations to a neighboring, 10,800-square-foot historic building.
The combined cost of the projects has been estimated at $40 million. If approved, the bonds would be repaid through property taxes generated by the projects, with Jacobs on the hook if there's a shortfall.
The Metropolitan and Economic Development Committee hearing is set for 5:30 p.m. Monday in Room 260 of the City-County Building.
It's unclear whether the council committee members are swayed by Gilday's letter and supporting documents he provided. The city declined to comment on the matter, and committee Chairwoman Maggie Lewis did not respond to requests for comment.
Jacobs has faced a long legal battle after announcing the Block 20 project in 2016. Gilday's clients maintained that the project violated a covenant on the property that prohibited anything but residential uses. The battle reached the Indiana Court of Appeals, which in June 2018 ruled against the residents.
Gilday contends that while Jacobs made unwanted contact with remonstrators from the start of the legal process, the matter took a sharp turn in July 2018 after they filed a motion to move the case to Indiana Supreme Court. (In October, the court declined to hear the case.)
Gilday's letter says that, on July 10, Jacobs "made an unscheduled and [unwelcome] appearance" at his office in Regions Tower and demanded to speak with him.
When Gilday informed his legal assistant he was unavailable, Jacobs yelled at him through a closed door, telling him to "get his ass out here now and be a man," according to the letter.
The assistant said Jacobs eventually left, using additional profane language on his way out.
Gilday said he later received two emails from Jacobs that were sent the same day he came to the office. They weren't seen until a day later due to a quarantine for profane language. In those emails, Jacobs used vulgarity and threatened drastic changes to the project, Gilday said.
"I am two years into this and done f****** around," Jacobs wrote in the first email, sent before he went to the Gilday & Associates office, according to Gilday.
Following the visit, Jacobs wrote a second message, which concluded with: "How about this? Why don't we double the unit count and turn it into a hotel?"
Gilday wasn't alone in receiving messages from Jacobs. At least one of Gilday's clients received texts laced with profanity and insinuations, Gilday said.
Jacobs contacted James Arnold on July 9 and July 10 by text message and asked to speak with him by phone about the project.
Arnold declined, telling Jacobs to contact his attorney. The developer said he couldn't get Gilday to speak with him, before calling both men a slur associated with the female reproductive system.
Jacobs also said he would "just continue to kick your asses in court," after Arnold further resisted a conversation with the developer and asked him to stop contacting him.
Jacobs often tried to set up meetings with remonstrators or make phone calls to them without his attorneys. Jacobs made those overtures despite repeated, written requests that only his attorneys from Ice Miller LLP try to contact them, Gilday said.
Jacobs' behavior "belies the absence of necessary minimal temperament and acuity that should be expected by the city to consider, let alone undertake the bond or tax financing he has requested," Gilday wrote to members of the committee.
 
Please enable JavaScript to view this content.