Jeff Steinbronn, a former Navy submarine navigator and instructor, started teaching at T.C. Howe Community High School two years ago and coached the Indianapolis public school's science quiz bowl team to two state science titles in the Indiana Academic Super Bowl competition.

Only after that did he get his degree in education.

"If you're teaching how to handle radioactive materials, it shouldn't be too hard to teach high school," said Steinbronn, 48, who has since taken a job at Warren Central High School.

Indiana's schools need more teachers like Steinbronn, according to Tony Bennett, Indiana's superintendent of public instruction. And Bennett says he's trying to change teacher licensing rules to make that happen.

Bennett wants to cap the number of hours that teacher candidates could take in the methodology of teaching, also known as pedagogy, to force students to take more content courses and to lower the barriers for career changers with skills in subjects like math or biology.

But Bennett's proposed rules are a threat in the eyes of most deans of Indiana's colleges of education—both to the quality of teacher training and to the budgets of the colleges.

That's why sleepy and arcane changes to licensing rules have opened a contentious debate about how best to get top-quality teachers into Indiana's public schools and, by extension, how to adequately equip all Hoosiers for an economy that now depends more on their heads than their hands.

"If you start threatening people's profit-loss ratios, they get pretty animated about it," said Lindan Hill, dean of the Marian University School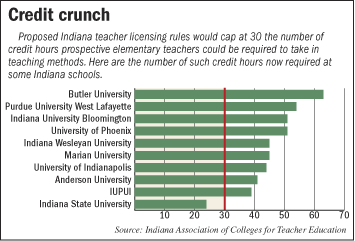 of Education in Indianapolis. Marian is where Steinbronn did his accelerated training, which was part of a partnership between Marian and Indianapolis Public Schools.

Bennett sees a significant shortage of people with Steinbronn's science and math skills going into teaching. So he envisions a world where working adults—such as the thousands Eli Lilly and Co. will lay off in the next two years—could shift relatively easily into teaching math and science in Indiana's public schools.

Rewriting the rules

Bennett, 48, who became Indiana superintendent of public instruction in January after Suellen Reed held the job for 16 years, is admittedly trying to shake up "the education establishment" in Indiana.

He's trying to push his new rules into effect by July 2010—roughly a year after he proposed them. The rules received a preliminary OK Sept. 3 from the Indiana Professional Standards Board. Bennett next will hold meetings to receive public comments from Oct. 27-Nov. 2.

His plans threaten to sap dollars from colleges of education in three main ways.

First, his rules would allow prospective elementary teachers to take no more than 30 credit hours of teaching methods.

That would be a huge cut for some schools, such as Butler University, which now requires its elementary education majors to take 63 credit hours in teaching methods. Butler's College of Education would see about $1.3 million a year in tuition dollars flow to other departments at the school.

In a survey by the Indiana Association of Colleges for Teacher Education, 26 out of 33 schools would have to cut at least some credit hours from their elementary education requirements, if Bennett's rules are adopted.

Second, Bennett's proposed rules would entirely eliminate secondary education majors. Instead, prospective high school teachers would major in their intended specialty—math, for example, and take teaching methods courses as a minor.

At Indiana University-Bloomington, its 204 secondary education majors would then be limited to 18 credit hours in teaching methods, down from 34 now. That would cost the IU School of Education about $160,000 in tuition revenue each year, plus state funds that subsidize those students.

Or it could even lose students completely. The new rules allow any college graduate that passes a certification test administered by the American Board of Certification for Teacher Excellence to become a secondary teacher.

Last, Bennett's rules would no longer require teachers to take courses at universities to renew their licenses. Current rules require existing teachers to earn six credit hours every five or 10 years, depending on their time in the profession.

It's not clear how many teachers will opt not to take university courses if not required. Many teachers take more courses than required in order to earn master's degrees or content-area specialties that can boost their pay.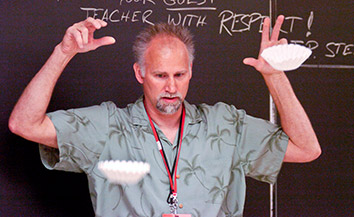 Warren Central High School science teacher Jeff Steinbronn uses coffee filters to demonstrate air resistance in his advanced physics class. (IBJ Photo/Robin Jerstad)
Some also take courses to become eligible to be administrators, but Bennett's rules would allow school districts to hire superintendents who simply have a master's degree—not necessarily in the field of education.

But with 63,000 public schoolteachers and only 40 schools of education, those courses produce tuition revenue of about $25 million a year across the state.

Those kinds of requirements have caused some insiders of teacher training programs to lash out at their peers.

In a 2006 report, the former president of the Teachers College at Columbia University, Arthur Levine, wrote, "So long as universities continue to use their education schools as cash cows, students who should not be teachers will continue to be admitted to the nation's education schools."

And in March, the director of teacher education at Harvard University, Katherine Merseth, took aim at graduate programs for teachers, saying that all but about 100 programs nationwide "could be shut down tomorrow," according to U.S. News & World Report.

"The dirty little secret about schools of education is that they have been the cash cows of universities for many, many years," Merseth said. She added, "It's high time that we broke up the cartel."

Bennett has been happy to echo these sentiments, which has further angered university officials running teacher training programs.

"I'm not getting any Christmas cards from the universities," Bennett said

Threatening quality?

To hear Indiana's deans of education tell it, Bennett is the one threatening teacher quality, not them.

Some even say he's the one chasing money—forcing the teacher licensure changes in order to qualify for one-time stimulus money offered by the U.S. Department of Education.

By requiring aspiring secondary teachers to major in a specific subject, Bennett's rules would have those students actually take fewer hours of subject-matter content, not more.

For example, a math major at IU-Bloomington would be required to take 30 hours of math. But a secondary education major specializing in math currently takes 42 credit hours of math courses.

"We designed the major to make sure the students have a strong foundation in the courses that they actually are going to teach," said Gerardo Gonzalez, dean of the IU School of Education.

A survey by the Indiana Association of Colleges for Teacher Education found that secondary education majors take as many or more courses in English, biology, chemistry, U.S. history and Spanish than their peers majoring in those subjects.

"This isn't a race to the top in these rules; it's a race to the bottom," said Ena Shelley, dean of Butler's College of Education.

Bennett countered that some of Indiana's colleges of education have their education majors take content courses, such as math, designed for teachers, not math majors. And the rigor of the courses just isn't the same, he said.

Education deans also fault Bennett's rules for moving back to an old model of strict credit-hour requirements, undercutting 10 years of efforts to tie teacher-training to specific standards, measured by tests taken by teachers and by students.

That was the goal of the current rule system for teacher licensing, called Rules 2002. And some credit the system with the general improvement in Indiana students' scores on the ISTEP and SAT tests.

"Indiana has gotten better, not worse, since 2002," said John Jacobson, dean of the Ball State University Teachers College. "That's an indicator that maybe the standards-based system is working."

Like many deans, Jacobson said the alternative programs Bennett wants to promote are good. And if Bennett's rules pass, he foresees his own and other schools embracing them more—partly out of necessity to make up for the lost revenue.

Only about 15 percent of new teachers receive their licenses through alternative means, like Steinbronn did, according to data from the Indiana Department of Education.

But Steinbronn swears by it.

"This was the best path to take," he said. "No doubt in my mind."•