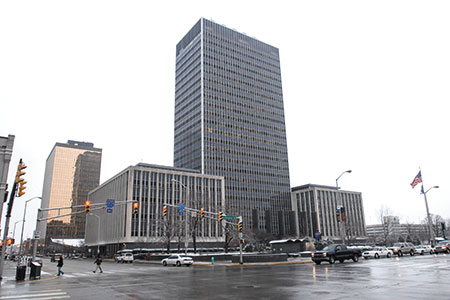 When Jeff Coats was elected to the Indianapolis City-County Council in 2015, he and his fellow Republican freshmen—Scott Kreider, Susie Cordi and Colleen Fanning—had big goals of eschewing old-school partisan politics.
They agreed, as they joined the Democratic-controlled council at the same time Democrats captured the Mayor's Office, that, even though they embraced the role of the "loyal opposition" to Mayor Joe Hogsett, they "didn't want to say no for the sake of saying no," Coats said.
Four years later, Coats, who decided not to run for re-election this fall, said he's "disillusioned and burned out" by party and council politics—tired of hearing, "We don't operate that way." Just one person from that quartet of once-optimistic GOP freshmen—Fanning—is seeking a second term.
"Any minority caucus best serves their constituencies and their future prospects if they come to the table with more solutions than just no votes," Coats said. "That didn't happen nearly often enough. There was a little bit of getting slapped in the face with reality."
They're not alone in having had enough of the 25-member council, the legislative body that drafts and passes city policy and controls the city's $1.2 billion budget: Eight current city-county councilors—a third of the members—won't be on the ballot this fall. And five members elected in 2015 have since resigned, retired or been promoted to higher office.
If any incumbents lose in November's municipal election—entirely likely, given several competitive races across the city—there will be even more turnover.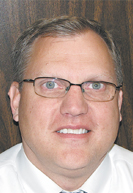 Brown
"We could have 10, 11 or 12 new councilors" come January, said Council Chief Financial Officer Bart Brown. "Having almost 50% turnover is extremely rare."
The reason for the turnover varies from member to member—and it's prevalent in the Republican caucus, where about half the caucus is leaving.
Some councilors—including Democrat Joe Simpson and Republican Susie Cordi—didn't have enough support from their party to seek re-election. "I'm disappointed with my party," Cordi said. "I'm not bitter; I'm just tired of fighting."
Others, including Republican Marilyn Pfisterer, decided to retire. Jeff Miller resigned last year after pleading guilty to felony assault.
"There's no smoking gun as to why people are getting out of the job," Minority Leader Mike McQuillen said. "It's many different people deciding to go in a different direction."
But some members say the very low pay—$11,400 per year—and very long hours make the job more prone to burnout than other public-service positions.
Brown said those realities have led some to decide the political struggles are just not worth it.
"The challenge is, there are folks that think they're going to be able to accomplish a lot in their first couple years," he said. "You're just one of 25 individuals that are competing for very limited resources. That can be frustrating for some."
'A lot of time'
Several councilors said doing the job well requires an extraordinary time commitment, even though it is supposed to be a part-time gig. Vice President Zach Adamson said he typically spends at least 35 hours a week on council duties.
Jefferson Shreve—who served on the council from 2013 to 2016 and was tapped by Republicans last year to fill out Miller's term—said he was encouraged by his party to run again but couldn't swing the time commitment for another four years.
"This job, done properly, requires a lot of time," said Shreve, who, in his day job, is owner of Indianapolis-based Storage Express, which operates in five states. "It requires most weekday evenings; it limits one's ability to travel, and I couldn't make that commitment through the end of 2024."
It's not just showing up and voting at weeknight council and committee meetings, he said, which can frequently run hours. On the remaining nights, "you probably have a neighborhood meeting or some presentation somewhere around the city."
"There's always something to pencil into the calendar," he said. "It goes along with the job; you can't represent your local community if you don't turn up."
Andy Harris, a Republican councilor who replaced Pfisterer and is running for a full term, said it's frustrating to see "certain areas of our county [that] are not truly represented in the community" because councilors don't put in adequate time.
"You have some great ones and you have some that are just not engaged in the community," said Harris, adding that the problem is on both sides of the aisle.
A former township trustee in charge of victim assistance, Harris said he is used to long, odd hours because that job required "being out there at 1 a.m., or 5 a.m.," or hearing his pager go off when "having dinner and a movie with my wife."
"That's somebody's greatest time of need," Harris said.
Given all the hours council commitments entail, Adamson said, councilors make "less than they would at a part-time job at a fast-food restaurant."
Adamson and others have tried to increase the pay for several years. But their efforts have so far stalled, due to a lack of political appetite from the majority of the council.
Coats acknowledged that council pay has been "an issue for other folks," but he said it wasn't part of his decision not to run again.
"This is a volunteer position that comes with a paycheck," he said. "I don't subscribe to the theory that higher council pay will result in better-quality candidates. You can look at various levels of government and see the opposite."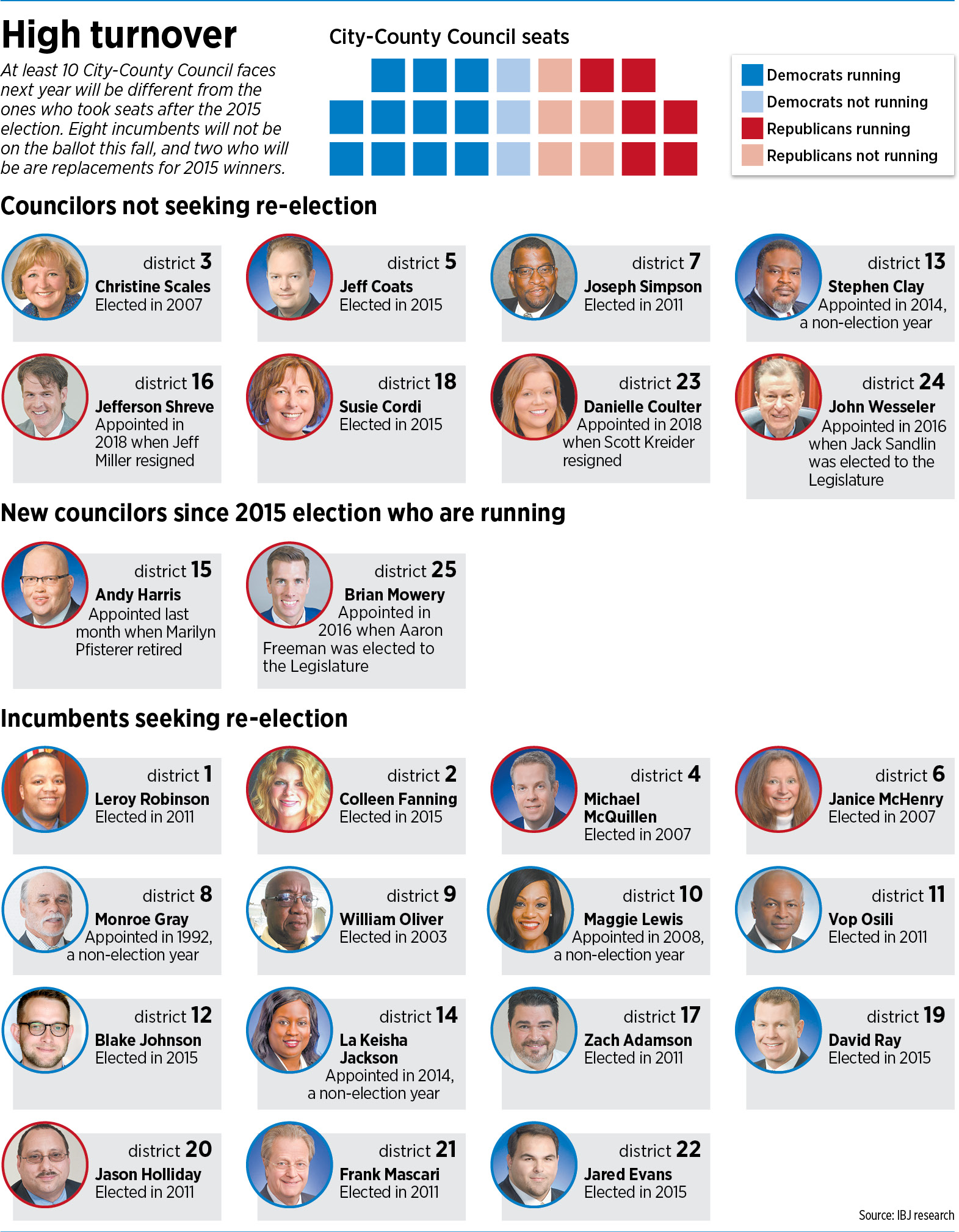 See who's running and who's not.
Balance of power
Council Republicans hold 11 seats. The turnover could put the GOP in an even more precarious position in a county that is becoming bluer.
In May's primary election, voters cast nearly twice as many Democratic ballots as Republican ballots—35,054 vs.18,609. In the primary four years earlier, 25,956 people voted for Democrats compared with 20,409 for Republicans.
Kate Sweeney Bell, chairwoman of the Marion County Democratic Party, said it is "absolutely" an advantage for Democrats that so many Republican seats won't be defended by incumbents.
"It is harder to run against an incumbent," Bell said. "They go to neighborhood meetings and event and community forums, so they have better name ID. I see opportunities for us as a party and us as a city to bring fresh voices to the council."
Republicans are so far fielding 17 candidates for the 25 council seats, while Democrats are fielding candidates for all but one seat. The parties have until June to recruit candidates for the open seats.
McQuillen said it might not be realistic for the GOP to field candidates for all 25 seats, though he sees strong candidates surfacing.
For instance, he said he is proud the GOP recruited Bates-Hendricks neighborhood leader Laura Giffel to run in District 16, the seat Shreve is giving up.
"She's what a super candidate should look like," McQuillen said. "She's just super involved. It's sad when you lose people, but it's encouraging when you get people like Laura to run. It all works out in the end."
'Brain drain'
Turnover brings practical concerns. For one thing, a lot of institutional knowledge walks out the door. "We're about to have a pretty massive brain drain," Coats said, especially on the Republican side.
One key GOP loss is Pfisterer, whose April retirement meant the loss of that caucus' longest-serving member. She joined the council in 2004.
"She was looked to for understanding the fiscal side of everything," Brown said. "I don't know who can step up in the party to replace her."
Now, McQuillen and Janice McHenry, both elected in 2007, are the "veteran Republicans," McQuillen said.
"Years ago, there were people who were there for 20, 24, 28 years," he said. "That just doesn't happen now."
For Democrats, brain drain won't be as much of an issue. Councilor Maggie Lewis, who previously served as president, "certainly knows everything there is to know" about local government, Brown said. And since becoming president in 2018, "Vop [Osili] has picked it up and he has shot out of the gate."
Another challenge is that new councilors might struggle to fill the educator role—explaining issues to residents and neighborhood groups—that experienced councilors often play.
"There will be a lot of people coming in cold to this complicated subject matter," Shreve said.
He said it's human nature for new members to stay quiet for a while until they understand the issues at hand and the process—which could mean important questions aren't asked.
"It just takes time before you begin to understand the landscape enough to formulate coherent questions," he said. "No one wants to sound like a bumbling idiot at the committee."
Shreve said he hopes new members are "quick learners and people with enough self-confidence to admit time and again what they don't know."
"If you've got a question, you can safely assume there are other people who don't know the answer to that question, either," he said. "You're not going to gum things up too much to ask for a clarification."
On the other hand, the arrival of new members could usher in fresh thinking, said Harris, the Republican chosen by his party to fill Pfisterer's seat.
As a former Wayne Township trustee and former staffer for Mayor Greg Ballard, Harris said he has learned that, as a "Republican in a majority Democrat area," you can't put party politics front and center. It's about serving people, he said.
"I have learned at the good age of 54 that you can be taught things and learn things from another individual," Harris said, "and it can change or add to your perspective."•
Please enable JavaScript to view this content.