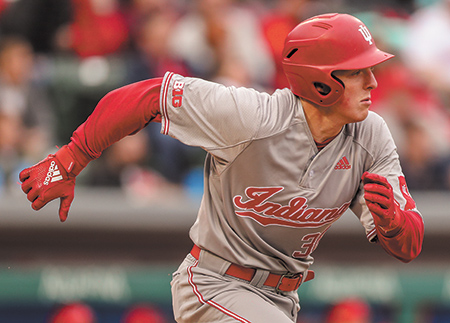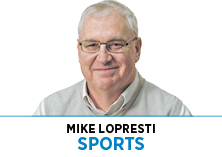 Here are the latest Division I baseball standings and statistics. Notice something? Indiana is a baseball state—wind chill factor and all.
There's IU near the top of the Big Ten standings, while leading the nation in home runs. The Homerin' Hoosiers.
There's Ball State near the top of the MAC, its pitchers tied for the best strikeout rate in the nation.
There's Indiana State near the top of the Missouri Valley, seventh in the nation in earned run average, even after a bad weekend at Dallas Baptist.
You don't need the Weather Channel to tell you this isn't a tropical baseball wonderland. Indiana has produced four teams in history that made the College World Series. Sunny California, Texas and Florida have sent a total of 206. But there has been a lot of good baseball in the state, including this spring, with the conference tournaments and NCAA bids coming soon.
◗ Start with Ball State.
Drey Jameson sits there, the lightest Cardinal on the roster, and you're thinking, 'Who is this, a baseball Rudy?" But you should try to hit against him.
At last check, he had struck out 128 in 78.2 innings, and that's the third-best rate in the country (while we're at it, Butler's Ryan Pepiot is fourth). Jameson also played football and basketball for Greenfield Central. You can find his last-second shot that sent a sectional game into overtime on YouTube, but he decided, "I thought maybe I might be able to be someone in baseball.
"When I told people that, some of them might laugh. Today, it's still like, 'He's 6-foot, 165 pounds.' Yeah, I'm 6-foot, 165 pounds, but I can throw strikes and have velo [velocity] and three-plus pitches. Size matters, but it doesn't matter. It does fuel me, but in a positive way.
Coach Rich Maloney mentions Jameson's inner fire: "He always plays with a chip on his shoulder. I think he's always had something to prove."
Meanwhile, John Baker and Lukas Jaksich combined the other day to throw the first nine-inning no-hitter in Ball State history. The staff strikeout total keeps climbing for a 33-17 team.
Maloney's office wall is adorned with pictures of first-round draft picks. Ball State has produced seven since 1986. He talks of Indiana's being "transformed" in baseball.
"They're producing a ton of high draft picks in this state, and amazingly so for the size of the state. I think what you have are some very dedicated high school coaches, some very dedicated travel teams, some very dedicated college programs."
Ball State's only NCAA bid the past 50 years was in 2006. The Cardinals have had several worthy teams, but the MAC is basically a one-bid league, so it's win the conference tournament or else. But the smallish guy with the big arm has a vow.
"Before I leave here, I want to leave a legacy," said the sophomore, draft-eligible Jameson. "Making the NCAA Tournament is huge for this program. It'll kind of be like we failed if we didn't do that."
◗ Next, Indiana.
First-year Coach Jeff Mercer was talking about the Hoosiers' power numbers. They've hit 84 home runs. The opposition has 22. Not that Mercer wouldn't mind a little more contact hitting, for a baseball fact of life is, more home runs usually means more strikeouts.
"But it would also be an error if we as a coaching staff said to this group, 'We're going to bunt, and hit and run a ton, and we're going to try to slap it around.' That's not how this roster was built. But we have to continue to grow and develop those guys into … more well-rounded offensive players."
It's an interesting collection of Hoosiers. Take Matt Lloyd. He leads the Big Ten in RBI and shares the lead in homers with teammate Cole Barr, but he's also Indiana's closer. "You have to have a great self-belief to be able to know that—when the game is at its biggest moment, which is what happens when you hit third and it happens when you're a closer—then you have the stuff and the ability to excel," Mercer said. "He has that."
Or there's Scotty Bradley, another productive bat. His father, Scott, was a major leaguer catcher and is head coach at Princeton. This import from the East has learned something about baseball in Indiana. "Coming from New Jersey, not knowing much coming out here, it's amazing; every single time you play an in-state opponent, it's an absolute dogfight," he said.
The Hoosiers are a plucky bunch. A 1-3 stretch was followed by winning two of three at league-leading Michigan. They've lost the opener of a Big Ten series three times and come back to take the next two games and the series.
Regardless of what happens in the Big Ten tournament, the 33-18 record and 26th spot in the NCAA RPI should get the selection committee's notice for an at-large bid. There are still echoes from the Kyle Schwarber-led team that made the school's first College World Series trip in 2013. "It's motivation every single day," Bradley said, "to make the players of the past proud."
◗ Then, Indiana State.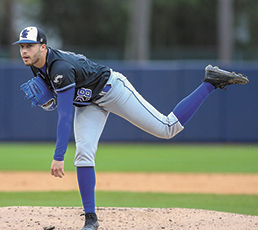 Indiana State University's Triston Polley: "Baseball is one of those things that molds your life. … You see the people whose careers have ended, they still talk about the game or want to be involved in the game somehow." (Photo courtesy of ISU Athletics)
Starting pitcher Triston Polley played his high school baseball at Brownsburg, so he knows about winning tradition. The day of his recruiting visit, Indiana State had just been selected for the 2014 NCAA Tournament. So he figured … more tradition.
"I remember on my visit, it was almost like they rolled out the red carpet when I came on that selection Monday. I knew the program was something I wanted to be a part of."
Now he's a senior, with professional prospects, but still hoping for his own NCAA tournament. He's 6-1, and fellow starters Colin Liberatore and Tyler Whitbread are 9-1 and 6-2. With a season record of 34-14 (and 30th in the RPI), Indiana State is a threat in the Missouri Valley Conference.
"I want to go out with a bang and maybe get a talented high school kid to come to our selection Monday," Polley said. "Baseball is one of those things that molds your life. It's a big part of who you are. You see the people whose careers have ended, they still talk about the game or want to be involved in the game somehow. … So a lot of these guys who are not going to play again, I think that's driven them. And me, as a player who might have a chance, that's driven me to not want it to end for them."
When Indiana State marched to the College World Series in 1986, Mitch Hannahs was a freshman infielder. Now he's the Sycamores coach, who understands what an NCAA Tournament trip means.
"I want it for [the players] because of how hard they've worked and the time they've put in. We haven't been there since 2014 and I'm getting older, so I forget what it feels like."
And he knows just how he'd like to be reminded. So it goes, in a state where not all the round balls are orange.•
__________
Lopresti is a lifelong resident of Richmond and a graduate of Ball State University. He was a columnist for USA Today and Gannett newspapers for 31 years; he covered 34 Final Fours, 30 Super Bowls, 32 World Series and 16 Olympics. His column appears weekly. He can be reached at mjl5853@aol.com.
Please enable JavaScript to view this content.