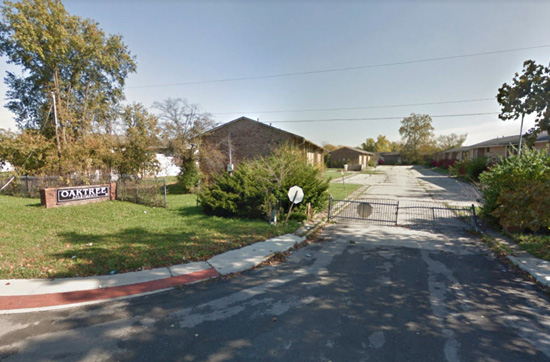 The city of Indianapolis filed an eminent domain lawsuit in Marion County Superior Court on Friday in its latest attempt to acquire and tear down the blighted, vacant Oaktree Apartments on the city's far-east side.
The suit, authorized Wednesday by the Metropolitan Development Commission, comes after Oaktree owner Indy Diamond LLC failed to respond to the city's offer to buy the 50-year-old complex.
The offer to buy the 336-unit complex for $1.6 million expired at the close of business Thursday, 30 days after it was made to the company. The city has called the 19-acre property southeast of the intersection of 42nd Street and Post Road a "threat to public health, safety and welfare."
Mayor Joe Hogsett said in a written statement that filing suit for eminent domain is "the first step to improving the public health and safety of nearby residents and beginning to repair the damage this blighted property has done to the neighborhood."
London-based Indy Diamond LLC is currently in contempt of court for refusing to comply with a judge's order to tear down the apartments. The company's lawyer did not respond to IBJ's request for comment.
MDC President John Dillon said the commission was "100% behind" the city's plan to pursue eminent domain.
Emily Mack, director of the city's Department of Metropolitan Development, previously said that pursuing eminent domain was "an absolute worst-case scenario," but the city has run out of options to try to address the troubled property, which continues to drain police resources and pose public safety risks.
Oaktree Apartments was condemned by the Marion County Department of Public Health in 2014 when the last remaining residents were forced to leave due to unreliable water service caused by broken pipes.
According to the city, the complex, which contains 29 structures, was troubled long before that. A 2008 tornado destroyed 48 units and damaged 200, and the apartments were cut off from Section 8 housing vouchers in 2010 because they didn't meet housing standards.
In 2013, the city filed a public nuisance case after there were "hundreds of police runs, incident reports, and housing and building code violations" at the site.
There have been several fires at Oaktree, including two separate fires in late March.
If the suit is successful, the city will spend about $1.3 million to demolish the apartments and prepare the site for future real estate projects. Doing so could "unlock the opportunity to begin community conversations about future transit-oriented development on the site," the city said, because the property is located along the proposed IndyGo bus rapid-transit Purple Line.
La Keisha Jackson, the City-County Council member that represents the far-east side, said "for more than 10 years, the Oaktree Apartments have held back" the neighborhood.
"One owner, one landlord, has allowed this to go on for far too long," she said in the statement, "but thanks to the Hogsett administration and local community leaders, we're taking a stand for the residents of the far east side."
Please enable JavaScript to view this content.