The prospect of a 2010 National Football League season without a players' salary cap could cause high-profile free agents for the Indianapolis Colts and other small-market teams to gallop off for greener pastures.

A clause in the current collective bargaining agreement between the players' union and the league's 32 owners calls for next year's season, the last under the current contract, to be played without a salary cap if a new contract for 2011 and beyond isn't agreed to by next March.

If a new agreement isn't hammered out by then, the NFL would play its first capless season since 1993. The capless season was installed into the current pact between players and owners as a poison pill against such a scenario. But now, many players—and even some owners—are embracing the idea.

Some owners think not having a cap will help them overhaul the entire player- pay structure in their favor. Officials for small-market teams like the Colts are not among those excited by the prospect.

Colts officials referred all questions on the matter to the league office in New York. At meetings held earlier this year—including one in Washington, D.C., on Sept. 28—owners have urged calm and restraint among their own ranks.

"If the owners in big markets open the floodgates and money for players comes flowing like manna from heaven, that could really damage the small-market teams, and the Colts are among those that could really suffer." said Marc Ganis, president of Chicago-based Sportcorp Ltd., which counts several NFL teams as clients.

After this season, the Colts could find themselves battling to re-sign the likes of linebacker Gary Brackett, among others, in a free-for-all free-agency period.

A Manning exit?

And the situation for the Colts has the potential to get much worse. The NFL Players Association is maintaining that, once the salary cap goes away, it won't return. If that's the case, Ganis said, small-market teams could have real trouble in the long haul retaining marquee players.

Future Hall of Fame quarterback Peyton Manning becomes a free agent after the 2010 season, along with defensive end Raheem Brock, kicker Adam Vinatieri and running back Joseph Addai.


Few around the league doubt Manning's commitment to the Colts, but no one can say for certain what would happen if a big-spending owner like the Dallas Cowboys' Jerry Jones or Washington Redskins' Daniel Snyder came calling with more cash than a small-market team could pay.

NFL Commissioner Roger Goodell told reporters during a conference call earlier in September that team owners are bracing for the worst.

"We recognize there's a strong reality there will be an uncapped year, and the owners have planned for it," Goodell said.

Just exactly what preparations Colts owner Jim Irsay and the league's other 31 owners have made isn't clear. But if the capless system extends beyond 2010, it could hurt the Colts.

A Colts spokesman said Irsay is not discussing the matter and is instead "focused on the season at hand." But the ramifications for the franchise certainly have grabbed his attention.

Scads of players would benefit from an uncapped season, said NFL Players Association general counsel Richard Berthelsen, "because it is open season on contracts," and they could attain salaries they never could with a salary cap in place.

The league takes in $8 billion a year, and its contract with the union calls for players to get about 60 percent of that revenue. That formula is unsustainable, owners say, because of rising operating costs caused largely by a stadium arms race.

In the next contract, owners want to take those costs into account by basing the formula on profit rather than revenue.

Irsay could cheap out

For owners, there is a potential silver lining to eliminating the salary cap because it would also mean the end of a minimum salary mandate. Currently, teams are required to spend a minimum of 85 percent of the salary cap.

Irsay

With the salary cap at $128 million this year, the minimum player payroll is $109 million. The removal of that floor means economy-minded owners or those that realize their team will be an on-field loser, anyway, could purge their rosters to save loads of cash, a proposition that is especially distasteful to the players' association. Few think Irsay would follow that path, but if money gets tight, the temptation would be greater.

"With a capless system, Jim Irsay would have to bleed a little financially to keep the team competitive," said Mark Rosentraub, a sports management professor at the University of Michigan and author of "Major League Losers," a book about professional sports operations.

Irsay could be one of the generals leading the charge to stop the capless season, league insiders said.

"Jim Irsay realizes a deal has to get done for the strength of the league and the strength of his team," Ganis said. "If he chooses to be a leader on this matter, I think other league owners will listen."

If owners and players can't come together before the end of next season, many predict the owners will lock out the players and threaten the 2011 season and the 2012 Super Bowl in Indianapolis. It would be the first NFL work stoppage since 1987.

"They've talked to us about that and about possible contingencies," said Allison Melangton, CEO of the 2012 Indianapolis Super Bowl Host Committee. Melangton declined to elaborate, but added, "[NFL officials] have told us they are fully committed to getting a deal done. We're moving full speed ahead with planning for the game."

The players' union is taking the possibility of a lockout seriously. It has advised players to save 25 percent of their salaries each of the next two years to weather a work stoppage.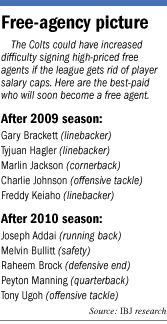 Small market crunch

Even though there is far more revenue sharing in the NFL than in either the National Basketball Association or Major League Baseball, there remains a revenue gap exceeding $100 million between the NFL's top earners and bottom-feeders.

Teams like the Cowboys, Redskins and New England Patriots dwarf the revenue of a small-market team like the Colts, even with the league's generous revenue-sharing plan. The Redskins, for instance, hauled in about $345 million in revenue last season, according to Forbes Magazine. The Colts, in spite of the team's sustained success on the field, brought in $233 million, which is below the $236.7 million league average.

"A capless system quickly takes the Colts from being reasonably profitable to being marginally unprofitable," said Richard Sheehan, a University of Notre Dame economist and author of "Keeping Score: The Economics of Big-Time Sports."

A capless system in the NFL likely wouldn't have the impact it does on Major League Baseball, where it's almost impossible for a small-market team to compete with the likes of the New York Yankees, but Sheehan said, "It would almost certainly affect the competitive balance of the league. And that's what has built this league into what it is."

The players' association and owners have agreed on some safeguards to limit the damage of a free agency free-for-all. For instance, players in an uncapped era would have to play six years in the league instead of four to qualify for unrestricted free agency.

Teams would be allowed to put the franchise tag on two players during a season without a salary cap, instead of one as is currently allowed. Putting a franchise tag on a player allows a team to sign him to a one-year deal at the average cost of the top five players at his position.

And the eight teams with the best on-field records this year would have to operate under restrictions in the number of free agents they could pursue for the capless 2010 season.•