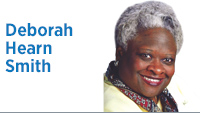 Is saving the earth a middle-class value? This question is absurd to anyone who knows anything about climate change and pollution. It should be universal knowledge that the fate of our environment benefits or harms us all. This issue does not discriminate.
Recently, scientists reached depths in the ocean never before explored and found plastic. The evidence is obvious that the care for Mother Earth is the collective responsibility of all.
It perplexes me that a matter of such global impact in the United States is regulated to local governments. Will a clean California make up for a pollution-filled Michigan? How can the United States lead the world on the global stage when the laws and regulation of our own country are at best inconsistent and at worse being dismantled?
As I travel, I see overwhelming differences in the way we treat Mother Earth. The attitude across the country is so inconsistent one wonders if we are not privy to the same information. Some areas feel addressing our environment is a compelling need, while others act like it's a problem best kicked forward in the quest for economic growth.
The sad reality is that the Indianapolis metro area is behind the country in this area. It is a terrible blemish on our city that environmental concerns take such a back seat in our ongoing growth and future.
Back to my original question: Is this a middle-class concern? It seems Indianapolis must be using this as its premise on handling the environment. Let me set forth why I have come to this conclusion.
An IBJ article in May 2018 pointed to the fact that one in five families in the metro area is living below the poverty line, with the gap in income growing. Let's take a glimpse at the barriers these families face.
The number of food deserts in the city is increasing, which decreases the availability of healthy food choices for families.
These same families do not have quality schools in their neighborhoods. So to add to the stress of daily life, they must research and hope to find a school with a proven success track record and pray they can get a spot for their child. The other option is to enroll their children in a school where success is not proven.
These families also face school breaks that are not family-friendly. This year, schools had a total of six weeks of breaks—two weeks each for fall, winter and spring. What working parent has six weeks to take away from work—plus summer? This adds to children being home alone. Child care is an added expense, beyond the ability of the working poor.
These families face the daily struggle to provide food, shelter and the basics of life. Many of the basic needs for the working poor are luxuries.
In the current state of affairs, we add to their burden by teaching their children that recycling is what responsible citizenship entails. We have drop-off spots that are free if you have transportation, which we know is a challenge for these families.
Our retailers provide plastic bags at no cost and charge for reusable bags.
To top it off, if the family wants to help the community efforts to care for the environment by recycling from home, it costs $25 a month. Why are we adding to the barriers of full participation in the quality of life of our city?
I suggest we need a green movement in Indianapolis that would allow participation by all our citizens, not based on ability to pay.•
__________
Smith is former CEO of the Girl Scouts of Central Indiana. Send comments [email protected]
Click here for more Forefront columns.
Please enable JavaScript to view this content.