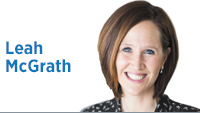 I tuned into MSNBC one morning recently and watched the first segment, which was about the Mueller Report, followed by the pundits' top-five list of Democratic candidates for U.S. president in 2020.
When thinking about politics and policy, many go first to the national stage. However, the elections we should all spend more time considering are those happening closest to home, in our cities and towns.
Our city and town elected officials are charged with passing budgets that account for tens of millions of tax dollars. They build and maintain our streets, provide sewer and water utilities, manage and plan for growth, build community, and attract jobs and investment. They create traditions through our parks departments, and they keep us safe.
They are the heart and soul of our country. They are the innovation drivers behind new ideas and new delivery methods for services. They see the problems firsthand that our society faces and are the first to respond. Those serving and working in our local government are not officials from a faraway place. They are our neighbors and friends.
In the last presidential election year, 2016, Indiana had a 38% voter turnout in the primary election and a 58% voter turnout for the general. In the municipal election of 2015, Indiana had a 14.4% voter turnout in the primary election and a 21.7 % voter turnout for the general.
We have seen declining voter turnout for municipal elections over the last 15 years, and 2019 was no exception. In the recent primary, even in Hamilton County where a majority of races are decided in the primary election, still only 15.9% of registered voters showed up to cast a ballot.
While I'd love to see more participation across the board, the municipal voter turnout is especially abysmal and quizzical, given that what happens at the local level has much more of an immediate impact on the day-to-day lives of voters and residents.
Legislators and policymakers have looked at these statistics before and debated timing of municipal elections. Whatever your opinion, in the end, it is about citizen accountability. It comes down to each of us making the commitment to be more civic- and community-minded.
For those who think any candidate could do the job or that municipal elections don't matter, think again. Often, the difference between a thriving city and a dying city is leadership.
People have asked me what makes Fishers so successful. Two words: leadership and vision. Mayor Scott Fadness, for whom I work and who handily won the Fishers primary this month, has successfully painted a picture, a vision for Fishers to be a smart, vibrant and entrepreneurial city.
Few of us who live in Fishers could have imagined the transformation that has occurred, almost overnight. Many of us wouldn't have seen the potential that was in us as a city to become an innovation hub and a leader in technology. We would not have realized that we, too, could create an arts and culture district that would be recognized by the Indiana Arts Commission.
Fadness saw the potential. He understood the need to develop a long-range plan that would create a sustainable city, and in doing so, he led us to a new day. Our vibrant city is thriving, and that is not by chance. Leaders make a difference.
We all have a choice. Your vote matters. For those cities and towns who have contested general elections, there is still time. Get involved. Vote.•
__________
McGrath is deputy mayor of the city of Fishers and is vice chairwoman of the Indiana Republican Party. Send comments to [email protected]
Click here for more Forefront columns.
Please enable JavaScript to view this content.