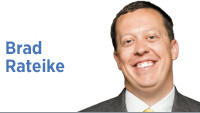 By the time you're reading this, the window for the 116th U.S. Congress to notch a significant, substantive accomplishment will be down to 38 "working" days. That's all the time that stands between now and the August congressional recess.
Once Congress comes back to D.C. after Labor Day, the 2020 campaign cycle will have kicked off in the eyes of most of the national media, which means election news will dominate cable news, social media and the Sunday morning talk shows through next November. (Yes, I'm sure at least a couple of networks will continue to carve out enough airtime to push the alleged presidential controversy du jour.)
In many ways, the 2020 campaign cycle kicked off months ago when the one-car caravan of Democratic presidential candidates began to take on passengers.
I realize we are not even halfway through 2019, but the significance of campaign season is that it becomes even more unlikely that a Democrat-led House and a Republican-led Senate will muster the political courage to collaborate and compromise to pass major legislation on which they will be able to campaign for re-election. During campaign season, politics usually trumps courage.
Democrats don't want to give Republicans (and especially President Trump) a win because they're focused on trying to keep their majority in the House, take a stab at winning the majority in the Senate, and win back the White House. Republicans know their ability to push any substantive policy is limited given they are in the minority in the House. The president will continue to have an enormous platform from which he can tout his administration's accomplishments, reminding voters how much has been done despite congressional inaction.
In 2018, the Democrats' message was: "Republicans in the House can't do anything, so give us the reins." Like the midterm elections in most first-term presidencies, the party of the president lost seats in the House and lost the majority. Five months into this Democrat-led House and what does it have to show for itself? Nothing.
Spare me the talking points about the importance of oversight hearings, and I don't need a constitutional lesson on checks and balances. Politics is very much a "What have you done for me lately?" business, and when I ask myself what this Congress has done for me lately, the best answer I can come up with is woefully inadequate.
Providing political theater is not an accomplishment. Promoting a culture of unlimited congressional investigations is not an accomplishment. Sharing self-promotional videos on Snapchat and Instagram "for the sake of your constituents" is not an accomplishment. I support style points and creativity, but you've got to have the substance. This Congress doesn't have it—yet. But there are some potential areas for progress.
Let's start with trade, a bipartisan issue that affects all Americans, especially voters in the Midwest and one on which both major parties need to reach agreement. What if Congress had a real debate about ratifying the United States-Mexico-Canada agreement? Trump negotiated the deal six months ago, and Congress has done nothing. So let's bring it to the floor for a vote.
If there's no appetite for that, maybe Congress could work with the White House and the Pharmaceutical Research and Manufacturers of America to find a pragmatic solution to drug pricing. Not willing to go there, either? Fine, then let's get crazy. Swing for the fences and tackle the immigration crisis at the border.
Only 38 more working days until the August recess for Congress, and the clock is ticking. But alas, I'll remain optimistic, because everybody loves a comeback.•
__________
Rateike is founder and owner of BAR Communications and served as director of cabinet communications for President Donald Trump. Send comments to ibjedit@ibj.com.
Click here for more Forefront columns.
Please enable JavaScript to view this content.