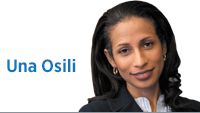 Last month, I had a unique opportunity to hear Melinda Gates issue an urgent challenge to make our families, our workplaces and our communities more equal.
She was discussing her new book, "Moment of Lift," which demonstrates the benefits of gender equity. Gates began the talk by revealing her own awakening about the critical link between gender equity and socio-economic progress.
Leaving, I was determined that we can all do more to expand opportunities and address structural barriers.
In my research, I have shown the positive benefits of societal investments in expanding education, health and income-generating opportunities for girls and women. Unfortunately, the United States appears to have fallen behind in tackling gender inequities.
It ranks 51st, according to a new report from the World Economic Forum that compares wage equity, women in government and life expectancy, among other factors, in 150 countries. The U.S. has made scarce progress in enacting family leave or child care support policies.
The report makes clear how much women are underrepresented in leadership roles, particularly in business and politics.
Bringing it closer to home, women make up about 21% of the Indiana General Assembly.
We might learn from other countries, which have taken steps to increase the number of women in elected office. Some countries, including France and Spain, have enacted gender quota policies for political parties.
As an alternative, Germany has spurred change through promises by political parties, which have since the 1980s emphasized female representation. Chancellor Angela Merkel has acknowledged that her party's quorum policy was vital to her political rise.
Perhaps a more nuanced and sustainable direction has focused on reducing the specific barriers female candidates face in getting nominated and executing successful campaigns.
Interestingly, there are remarkable results in advancing gender parity from countries in the Global South.
Rwanda remains one of the few countries where more women than men serve as elected officials. In the era in Rwanda since the quotas were implemented, the impact of female representation has been far-reaching.
The Rwandan parliament has passed new legislation that prevents gender-based violence, extends property rights to women, and enhances gender equity in the workforce.
Similarly, the Indian Constitution was amended in 1993 and now requires that a random third of village council positions be reserved for women.
When female voices are included, issues that affect women tend to gain visibility. When women are part of shaping public policy, societies see more profound and long-lasting changes. Thus, women in leadership become role models for what women can achieve.
Economists Esther Duflo, Lori Beamon and co-authors show that local councils in India with high female representation tend to enact policies that improve well-being for children and families. Female leadership has spillover effects by influencing girls' career aspirations and educational attainment.
Across many sectors, women are cracking the glass ceiling and taking their place in leadership positions. Urgent social movements such as #MeToo and #TimesUp are drawing attention to gender equality and changing our public debates, norms and attitudes.
For sustained change, we need to reshape institutions by expanding opportunities for female leaders.
We can help create a world where women, girls, men and boys all have a chance to thrive. Improving women's and girls' ability to participate as equals in the economy means a more prosperous society for all.•
__________
Osili is professor of economics and associate dean for research and international programs at Indiana University Lilly Family School of Philanthropy. Send comments to ibjedit@ibj.com.
Click here for more Forefront columns.
Please enable JavaScript to view this content.