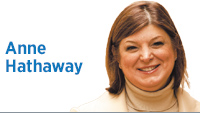 There have been so many well-deserved tributes to Sen. Richard Lugar over the weeks since his passing, and while he was a great mayor and U.S. senator, I can't say enough about his leadership, vision and commitment to the development of women leaders.
The 29th class of the Richard G. Lugar Excellence in Public Series graduated last week during its annual trip to Washington, D.C. The Lugar Series, as it is commonly known, is a women's leadership program founded in 1990 by Lugar, Judy Singleton and Teresa Lubbers to train and educate Republican women for opportunities in public service, whether that be elected office, campaigns or appointed positions.
The Lugar Series—of which I am privileged to serve as executive director—now has 529 alumni representing more than 70 Indiana counties. The alumni include Centers for Medicare and Medicaid Services Director Seema Verma; former Lt. Gov. Sue Ellspermann; state Treasurer Kelly Mitchell; State Health Commissioner Dr. Kristina Box; state Sens. Liz Brown and Erin Houchin; state Reps. Wendy McNamara, Christy Stutzman and Holli Sullivan; and countless current and former local elected officials, members of boards and commissions, and local, state and federal government staff.
The 20 women who were selected to participate in the 2018-2019 class have been meeting once a month since October, and last week they spent four days in our nation's capital. They had the opportunity to meet, ask questions and challenge leaders at the highest levels of our country's government.
As I watched the faces and listened to the Lugar Series class members probe and ponder what they were hearing and learning, I couldn't help but smile and think about the senator's legacy. He understood the value and importance of women's engagement in government, politics and public service before it was cool or politically correct.
One of the traditions of the D.C. trip is to celebrate graduation at a luncheon with Lugar. To meet him, take photos and have a chance for Lugar to share his wisdom and experience with the class. The senator always encouraged the Lugar Series class members to consider their potential, and he challenged them to take risks to pursue their dreams and ambitions.
My heart breaks that this year's class was not able to spend that personal time with the senator, but I am heartened that The Lugar Series is his legacy. Although he is no longer with us, we have the vision and goal to continue to engage more Republican women in public service at the local, state, federal and international level.
While the program has had impressive success, there is still room for growth in the number of women elected to the Legislature and for more women to be elected as mayors. I think we take for granted that five of our seven statewide elected officials are women and that two of nine members from Indiana in the U.S. House of Representatives are women. I believe it is because of Lugar and his leadership that electing women is the norm, not the exception, in Indiana.
It's very possible that, sometime in the future, one of the graduates of The Richard G. Lugar Excellence in Public Service Series will be the first female governor of Indiana, the first female U.S. senator representing Indiana in Washington, D.C., or maybe president or vice president or a cabinet secretary.
When that happens, the legacy of Sen. Richard Lugar will truly be complete.•
__________
Hathaway is president and CEO of Hathaway Strategies, chairwoman of the Julian Center board and former chief of staff of the Republican National Committee. Send comments to [email protected]
Click here for more Forefront columns.
Please enable JavaScript to view this content.