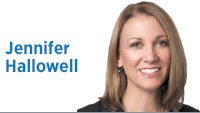 In May, we recognize Mental Health Awareness Month. Our country has come a long way in recent years to acknowledge the prevalence and severity of mental illness, which affects one in five U.S. adults.
In Indiana, mental health problems are on the rise. According to Mental Health America's 2018 report, our state ranks 47th for prevalence of mental health and substance abuse disorders and 33rd for access to care. The consequences of untreated mental illness in our state are dire.
Indiana's suicide rate—at more than 16%—is higher than the national average and has increased steadily over the last few years. Someone dies by suicide every eight hours in the Hoosier state.
The picture is particularly bleak for young people. One in five children ages 13-18 have or will have a serious mental illness, according to the 2018 report. Suicide is the second-leading cause of death for Hoosiers ages 15-34, with rates of suicide ideations and attempts growing at an alarming rate.
A few years ago, Fishers Mayor Scott Fadness identified mental illness as one of the most important issues facing the city's residents. He then launched a citywide initiative focused on reducing the stigma of mental illness and fostering collaboration among police, fire and emergency departments, local schools, health care providers and community volunteers to ensure better access to care for residents of all ages.
Fishers public safety personnel have undergone a series of crisis-intervention and suicide-prevention training programs and have revamped the city's approach in responding to behavioral health runs. As a result, residents are receiving more appropriate care, access to services, and follow-up after hospitalization.
Hamilton Southeastern Schools is leading the way to reduce the stigma. Last year, HSE had an on-site therapist in all 21 schools in the district, ensuring students have access to mental health services. There has been a significant increase in the number of students reaching out for help when they have thoughts about hurting themselves or others. Additionally, students receiving services have increased attendance and improved test scores.
Last year, America experienced the highest number of school shootings since 1970. Indiana, tragically, was home to two of them—in Noblesville and Richmond.
On the heels of those events, the Indiana General Assembly considered several proposals this year to help students get access to mental health services. Republican Sen. Mike Crider, a former law enforcement officer, and Republican Rep. Tony Cook, a former school superintendent, championed multiple efforts to provide schools with resources and funding to implement mental health and support services for students.
Some progress was made, but much more needs to be done to address the increasing number of Hoosier children and teens who need access to mental health services.
Legislators more readily addressed efforts to harden our schools by promoting and providing funds for metal detectors, alarms, cameras and training drills, but they struggled to reach consensus on programs aimed at addressing the causes of violence in our schools.
Parents, students, teachers, school officials and various local leaders have launched efforts in some Indiana communities to advance programs to increase awareness, reduce the stigma and provide greater access to care. The city of Fishers and its recently launched StigmaFreeFishers.com provide resources and a road map.
So as we close out Mental Health Awareness Month, let's all do more. Get involved, find out what your city and schools are doing to support residents and students, and tell your lawmakers it's time to act.•
__________
Hallowell is president of Hallowell Consulting LLC, a government affairs and communications consulting firm. Send comments to ibjedit@ibj.com.
Click here for more Forefront columns.
Please enable JavaScript to view this content.