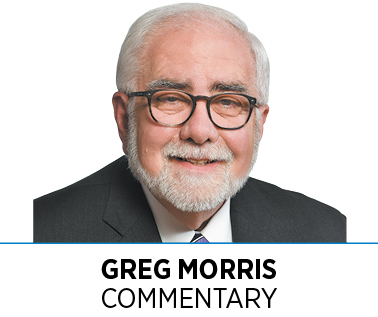 Memorial Day is upon us and the year will be half over before we know it. Even with less-than-desirable weather so far this spring, it's great to be in Indy during the month of May. The extended holiday weekend is a good time to pause from the day-to-day chaos of life and allow ourselves the opportunity to reflect a bit and be appreciative of our circumstances and surroundings.
This is when I remind myself of what a privilege it is to live in the greatest country in the world. Set aside all the insanity going on in D.C. If you watch too much cable and network television "news," and I use that term loosely, it will rot your brain. Don't be consumed by all the negativity. Stay true to your values and, as superstar artist Tim McGraw sings, "Always stay humble and kind."
The true meaning of Memorial Day can get lost amid all the noise. Sometimes we need to stop and remind ourselves why we have the liberties we do. Memorial Day is the time to remember those men and women who gave their lives serving in the military defending our freedom. It's also a time to remember loved ones, friends and family who have passed.
I'm taking my 87-year-old mother to multiple cemeteries this weekend to decorate graves of family and loved ones. This annual tradition has been instilled in and passed down to me and I am now the one who makes sure this happens every Memorial Day without fail. I hope one or more of my three sons carry on the tradition after I'm gone.
Speaking of traditions, what would Indianapolis be without the great tradition of the Indianapolis 500 every Memorial Day weekend? The month-long run up to the 103rd running of the Greatest Spectacle in Racing is full of events in Speedway and all around Indy. And the excitement on race day never fails to accelerate the heart rate.
The Speedway folks know how to keep the true meaning of Memorial Day front and center as the drivers move to their cars. The patriotic music played by the marching bands, the pageantry of the color guard, the playing of "Taps," the singing of the national anthem with flyover … all give you chills as you bear witness.
I appreciate the Hulman George family, Hulman & Co., the Indianapolis Motor Speedway, the 500 Festival folks and all involved for making the month of May in Indianapolis so special for more than a century. And thanks for continuing to recognize the importance of Memorial Day during pre-race ceremonies year after year. It always elicits an emotional response and reminds me why I'm proud to be an American.
In Washington, D.C., the 151st National Memorial Day Observance to honor America's fallen military service members is scheduled for May 27 at Arlington National Cemetery.
The U.S. Army Military District of Washington will conduct a Presidential Armed Forces Full Honor Wreath-Laying Ceremony at 11 a.m. at the Tomb of the Unknown Soldier, to be followed by a program of observance hosted by the Department of Defense in Arlington's Memorial Amphitheater. Attending this ceremony someday is on my bucket list.
This Memorial Day, my hope is that we all set aside our differences and remember to honor the men and women who have fallen in the line of duty and sacrificed their lives to protect the highest of ideals, and to keep us all safe from enemies near and far.
Thanks for reading IBJ and have a safe holiday weekend.•
__________
Morris is publisher of IBJ. His column appears every other week. To comment on this column, send email to gmorris@ibj.com.
Please enable JavaScript to view this content.