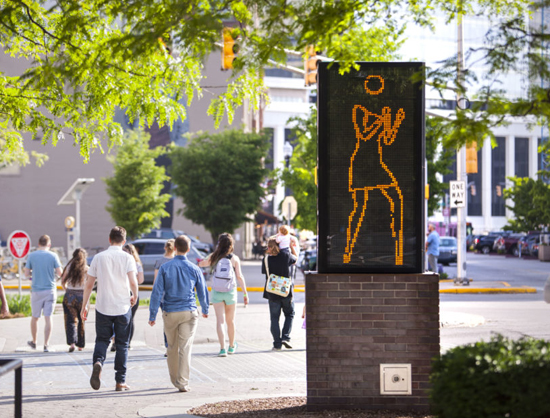 The Indianapolis Cultural Trail hopes to raise $262,800 to keep an electronic piece of public art in operation for years to come.
If successful, the Keep Ann Dancing fundraising campaign, announced Thursday morning, will pay for hardware and technology upgrades and a maintenance fund for Ann Dancing by British artist Julian Opie.
Originally designed to be a temporary installation, Ann Dancing is more than 10 years old and is the oldest piece of public art on the Indianapolis Cultural Trail. She is installed at the intersection of Massachusetts Avenue and Vermont Street in the Mass Ave Cultural District.
Organizers said the goal is to raise the money by June 29.
The funds will be used to purchase and install new display units that are designed for 24-hour operation in all four seasons. The technology upgrades will allow the piece to be updated remotely.
"Ann Dancing has been dancing with all of us, non-stop, and outside in the elements for more than 10 years and she needs significant upgrades to keep dancing for many more," Indianapolis Cultural Trail Inc. Executive Director Kären Haley said in written comments. "She is a piece of art, but she is also a piece of technology. Imagine if you still had your same mobile phone from 10 years ago."
Organizers said the art piece will be moved numerous time during the campaign, to events and for visits to financial supporters.
The Indianapolis Cultural Development Commission and the Indianapolis Cultural Trail split the $150,000 tab to buy Ann Dancing in early 2008. The purchase was made following a temporary exhibit of Opie's public art took place in 2007.
Opie, 61, emerged in the 1980s as part of the New British Sculpture movement, a group of artists, sculptors and installation artists that included Tony Cragg, Richard Deacon and Richard Wentworth.
Information on making a donation can be found at www.keepanndancing.org.
Please enable JavaScript to view this content.