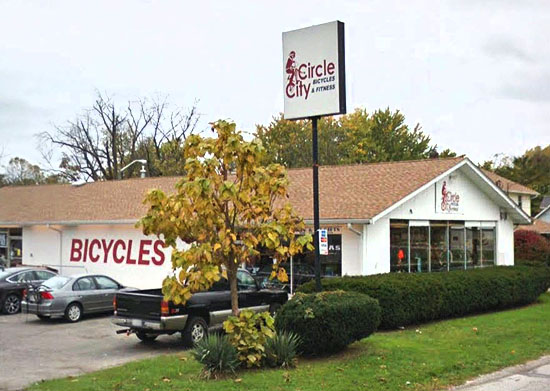 Circle City Bicycles, a nearly 100-year-old business on the south side of Indianapolis, is set to close, it announced this week.
The business, founded in 1922 as Supreme Schwinn, has operated at a few different locations, all within a block of its current location on Epler Road just west of Madison Avenue. 
On its Facebook page, the business describes itself as one of the city's oldest bicycle shops and the oldest employee-owned bike shop.
Declining sales prompted the decision to close, a store employee told IBJ.
The store began its going-out-of-business sale Monday, with all items marked at 20 percent off. The discount will increase by 1 percent each day until the inventory is gone, likely in early- to mid-August, the employee said.
"Thanks to everyone who has supported us over the years, both as Circle City Bicycles and as Supreme Schwinn," the retailer wrote in a Facebook post dated Sunday.
The original owner, George Dudgeon, founded the business in 1922. He started selling bike parts out of his parents' home on Epler Road, later moving to a standalone store in a converted chicken coop. 
Dudgeon was a polio survivor who was unable to ride a bicycle, but he became fascinated with bicycles when his uncle rode from Elwood to Indianapolis, according to an archived copy of the retailer's website.
In 1942, Dudgeon moved his shop to the corner of Epler Road and Madison Avenue, then moved the shop to its current location in 1964 to make way for a Speedway gas station that still stands at Epler and Madison.
The business later fell on hard times, declaring bankruptcy in 1992. The shop's manager, Roy Keller, along with John Stack, bought the assets of the company and reopened it as Circle City Bicycles in 1993.
Stack sold his interest in the company in 2000, and Pete Benner and Ed Pope became co-owners with Keller. Pope is currently the majority owner of the business. 
Founder Dudgeon died in 2004.
Please enable JavaScript to view this content.