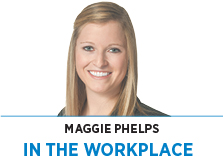 "You're a parent." I have to keep reminding myself that it really happened, that this is not just a temporary life adjustment and that "parent" is now a very real part of my identity.
I spent my three months of maternity leave in a haze of sleeplessness and the all-consuming demands of caring for a newborn. I came back to work a month ago and jumped right into a promotion. My peers became my direct reports, we changed office "neighborhoods," and we are still acclimating to the new expectations of being in a different department. Everyone around me is relying on me in a way I've not experienced before.
My first day back, I had a meeting with one of our executive team members. She put me on the spot, fired a question at me, and jolted me out of my maternity-leave haze. It was time to be back "on." But once we got through the bulk of the meeting, she and I had some softer conversation and we compared our experiences as moms. Before I left her office, she told me to take everything I had learned in my most recent three months and use it at work. She said my experiences as a new parent would serve me in my roles at work.
I was back "on," but "on" for me now would be different than it was before. I had felt so disconnected from my job, completely enveloped by my sweet little boy; yet she had just validated all my time on maternity leave. What she was telling me was to bring my entire self to work and that these two parts of my identity didn't have to be siloed and separate after all. One could serve and strengthen the other.
And so, in that vein, I've reflected on the lessons I've learned from early parenthood that might serve me (and others) as leaders.
Vulnerability can be an asset.
Motivational speaker Brene Brown says love is vulnerability, and I've never understood that like I do now that I'm a parent. Our son's birth was nothing like I imagined. At 34 weeks, I found myself in the hospital looking at a nurse who said to me, "You're not leaving this hospital without a baby." I was immediately overcome with fear. There were so many unknowns: How big would the baby be, would he be able to breathe on his own, why is this happening now?
There's no way around being vulnerable as a parent because the most precious person in your life is constantly at risk. Being vulnerable at work means you connect with people deeply and you build mutual trust. Vulnerability means putting yourself out there and quieting your insecurities. It means taking risks.
Letting go of control is brave.
The pressure we put on ourselves as parents and as professionals can be overwhelming. We spent two weeks in the NICU with our son after he was born. Every day, we woke up hoping he would be well enough to take home. When we tried to push things along, the nurses and doctors told us, "He's in charge. He'll tell us when he's ready." Time was his ticket home; so, even though it was hard, we focused on what we could control. We stayed with him every night, we woke to feed him every three hours, we held him as much as possible, and we loved him.
Now I look back and see that was a fleeting experience—a small chapter within a much larger story. When you're in them, situations like that can be so deflating that it's hard to appreciate the bigger picture. The best leaders know it's there. They're brave enough to let go of what they can't control and appreciate the long game.
Trusting yourself means turning off the noise.
In my first weeks as a mom, I read all the time. In the middle of the night as I was nursing, during the day between feedings, before my head hit the pillow, I was on my phone reading about how to parent. The more I read, the more I found rules I felt I had to follow, and the more I realized I was doing things "wrong." I was drowning in other people's opinions and putting so much pressure on myself in the process.
Finally, I realized I was looking for answers in the wrong places. I needed to use what I already had—my own instincts and incredible parents in our lives to learn from.
When thrown into a new role (whether as a new parent or in a new job), it's difficult to find confidence right away. And without it, other people's opinions easily take over, and we miss out on the opportunity to discover who we really are in our new role. In those moments, we need to remember to trust ourselves.
So take these lessons from a new mom: It's OK to be vulnerable, try to let go of what you cannot control, and trust your instincts. We can bring these, and other lessons learned in our personal lives, to serve and strengthen our professional lives. Because we're better leaders when we bring our whole selves to the table.•
__________
Phelps is senior manager for leadership initiatives and corporate volunteerism at United Way of Central Indiana.
Please enable JavaScript to view this content.