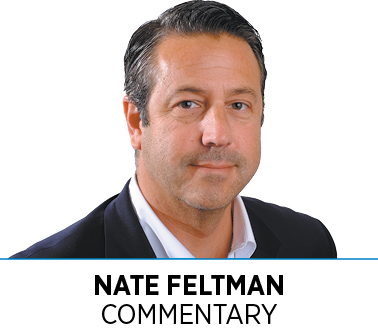 The political world is full of surprises. Over the years, we have witnessed many in Indiana, including Dan Quayle's 1980 U.S. Senate race victory over Birch Bayh, Greg Ballard's mayoral victory over Bart Peterson in 2007, and Todd Young's U.S. Senate race win over Evan Bayh in 2016.
Perhaps the biggest political surprise of all time is Donald Trump's victory in the Republican presidential primary and then election as president in 2016.
And who would have guessed Trump's victory would have a profound impact on Indiana? His choice of Mike Pence as his running mate threw Indiana politics into a tizzy. Recall that, in preparation for his gubernatorial re-election bid, Pence had installed Eric Holcomb as lieutenant governor.
Pence's decision to join the Trump ticket meant the Indiana Republican Party had to quickly choose a candidate for governor. Surprising some political pundits, the state committee picked Holcomb, who beat out two sitting members of Congress, Rep. Susan Brooks and Rep. Todd Rokita. Holcomb then had three months to put together, fund and run a statewide campaign.
He was no political novice, having worked for congressman John Hostetler and Gov. Mitch Daniels, as Indiana Republican Party chairman, and as chief of staff to U.S. Sen. Dan Coats.
But given his short window to introduce himself to voters, most were unsure how he would govern if elected. Would he put advancing Indiana's economy first, like his mentor Mitch Daniels, or would he allow divisive social issues to advance to the forefront, like his former bosses Hostetler and Pence?
Now that Holcomb has completed his third legislative session, and is in the home stretch of year three of his administration, many questions have been answered. Here is a look at Holcomb's legislative accomplishments:
◗ 2017 session. At a time raising taxes of any kind is viewed as deadly to one's political future in the Republican Party, Holcomb worked with lawmakers to raise the gas tax and other user fees to fund a 20-year roads and infrastructure program, a key component of economic development.
He also raised funding for pre-K education and introduced measures to attack the opioid crisis.
◗ 2018 session. Continuing his work to curtail the opioid epidemic, Holcomb advocated for more resources to combat the crisis and added nine opioid treatment sites throughout Indiana.
He also exempted sales tax on software to lure more high-paying tech jobs, required all high schools to offer computer science training, and worked to better fund and coordinate the state's workforce training efforts.
◗ 2019 session. Despite some GOP resistance, Holcomb pushed for and signed a hate crimes law.
He also increased funding for the struggling Department of Child Services, rural broadband, international nonstop flights from Indy, pre-K and K-12 education, and computer science training.
Holcomb has been a bold leader willing to take political risks. He also has focused on making Indiana more attractive for jobs and investment, believing that one of the government's roles is to create the conditions that help lead to economic opportunities for all Hoosiers. More Hoosiers today are employed than ever before.
At the same time, Holcomb has rightly protected Indiana's healthy reserves ($2 billion), ensuring the state will be ready when another recession hits.
And maybe most refreshing, Holcomb has taken a collaborative approach, building bridges across the political aisle. At a time political divisiveness nationally is high, Holcomb has kept his focus on advancing the interests of all Hoosiers, steering clear of divisive social issues that detract from other more pressing priorities. Indeed, a welcome surprise.•
__________
Feltman, an attorney and former Indiana secretary of commerce, is a shareholder in IBJ Corp. To comment on this column, send email to [email protected]
Please enable JavaScript to view this content.