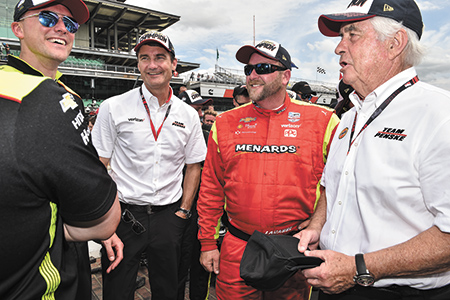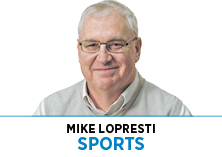 So here we are at the display case of nationally renowned products made in the city of Indianapolis and … wait a minute. Doesn't the one on the right look like Reggie Miller?
Explanations are clearly in order.
The thought occurred the other day that—along with Prozac and potholes—another thing Indianapolis is pretty good at producing is sports legends. Or at least enhancing them. That came to mind just after the finish of the Indianapolis 500, watching an 82-year-old billionaire basking in glory yet again.
"This place just gets to you," Roger Penske said after winning his 18th Indy 500. Just think about it. Forbes puts his worth at more than $1.5 billion, between the car dealerships and yellow trucks and fast cars and whatnot. But if it weren't for all those checkered flags on 16th Street, he might be good for only a few hundred million.
Which begged a question. Who's come to this town, competed in something, then left with a name in much, much larger letters than when he or she arrived?
Here are 10 made-in-Indy success stories. But first, two rules.
They can't be Indiana natives. So never mind the likes of Oscar Robertson, Bobby Plump, Tony Hinkle, et al. Hoosiers, all. We're looking for out-of-staters who owe much to the days and weeks and sometimes years they spent in Indianapolis.
Also, their feats had to come in and around Indianapolis, not the state at large. Which explains no Knute Rockne or Bob Knight, before anyone even asks.
Roger Penske
No matter how savvy a businessman he is, it's impossible to imagine that name being anywhere nearly as magical or his empire nearly as vast if all his victories came at Pocono and the Iowa Speedway. He's been winning the Indy 500 for 47 years, and there's no end in sight.
"It's not me; it's all the people that we work with day in and day out that make it so good," he said after the latest victory, delivered in mad-dash-to-the-bricks fashion by Simon Pagenaud. And he made sure to mention that his pits on race day were stocked with more than 700 hours of experience. They don't have that much on-the-job aggregate service at the Vatican.
People don't call him "The Captain" for nothing, though Pagenaud said Penske should be promoted to general. The drivers and engineers and the guys pumping in the fuel have mostly come and gone in 50 years, but he's been the constant presence through all those victories. The oldest coach or manager in any major sport to win a championship is Jack McKeon, who managed the Florida Marlins in 2003 at the age of 72. Penske has him by a decade.
Remember when he didn't even have a car in the race for six years? That was at the end of the 20th century, when Team Penske failed to qualify anyone in 1995—hard to imagine that even possible—then missed the next five races during the sports' civil war.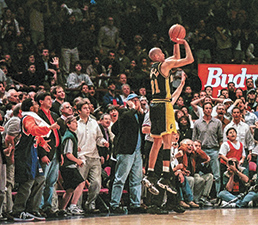 Reggie Miller scored 28,251 points as a Pacer. (AP photo.)
He was an able driver himself, and part of his journey includes the time he was invited to take a rookie test for the Indianapolis 500. He passed it up to attend to his growing business. The guy who took his place was a kid named Mario Andretti.
Peyton Manning
Born in Louisiana, a college star at Tennessee, a Super Bowl champion retiree in Denver. But it was in Indianapolis that Manning became a one-name icon. Now a children's hospital speaks to his legacy here, as does a statue outside Lucas Oil Stadium, as do a lot of teenagers in Indiana named Peyton.
It took some time. In his first six seasons as Colts quarterback, he didn't win a playoff game, going 0-3 with one touchdown pass, as Indianapolis was outscored 83-33. But he'd get better in January.
Reggie Miller
The first reaction he heard from Pacers fans was loud and pointed: BOOOOOO!.
That was draft day in 1987, when a good many locals wanted Indiana to draft Steve Alford, just off leading IU to the national championship. Gee, this Miller guy had won only one NCAA Tournament game in his life, and that was over Central Michigan. His UCLA team lost in March to Wyoming. But later, it was hard to find anyone who'd admit booing that day, even if they swore on a stack of Boom Baby posters. Miller would spend all 18 seasons, play all 52,927 minutes (regular season and playoffs), and score all 28,251 points as a Pacer.
A.J. Foyt
He was a great driver everywhere. But it was here, with four faces on the Borg-Warner Trophy, that made him a giant.
Rick Mears
See Foyt.
Al Unser Sr.
See Mears (and Helio Castroneves, and Johnny Rutherford, and just about anybody, for that matter, who's won the Indy 500.)
Mike Krzyzewski
Not hard to guess what you're thinking. Ain't he from Duke? Yeah, most of his 1,100-odd victories have come 600 miles away in Durham. But Krzyzewski isn't the same Coach K without five national championships, and three of those came in Indianapolis. That included two of the most unforgettable moments in Final Four history: the upset of unbeaten UNLV in 1991, which was the true breakthrough victory in his career, and the narrow escape of Butler in the 2010 epic championship game.
Florence Griffith Joyner
It takes an Olympic year to get the general population noticing track or field, so it was a global sensation when she produced the three fastest women's 100-meter times ever—in barely 24 hours—at the 1988 U.S. Olympic trials at IUPUI. Plus, she blazed that trail in a body suit with one leg cut off. Between her fashion statement and her speed, the quest to become the iconic Flo-Jo took a quantum leap that weekend.
John Daly
Not often one tournament begets a cult following. The Daly phenomenon as the long-hitting common man was created when he went from ninth alternate to winning the 1991 PGA Championship, and his later hard times have never quite severed the connection with the public. Nobody ever got more out of spending a weekend in Carmel. Many can't tell you he once won the British Open, but nobody forgets his PGA at Crooked Stick.
Kevin Ware
What a devastating way to get your name known. His shattered leg during the 2013 regional championship in Lucas Oil Stadium remains one of the NCAA Tournament's most horrific injuries, and he went from being a reserve off the Louisville bench to the focus of national conversation and sympathy. It continued the next week when the Cardinals won the national championship, with him as inspiration.
Ten faces, 10 reasons for fond memories of Indy. Or maybe nine. Doubtful that Kevin Ware's memories are fond, but they're undoubtedly vivid.•
__________
Lopresti is a lifelong resident of Richmond and a graduate of Ball State University. He was a columnist for USA Today and Gannett newspapers for 31 years; he covered 34 Final Fours, 30 Super Bowls, 32 World Series and 16 Olympics. His column appears weekly. He can be reached at mjl5853@aol.com.
Please enable JavaScript to view this content.