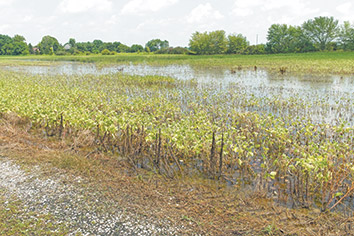 Constant rains this spring are leaving many Midwest farmers wondering whether they'll be able to plant any crops this year.
Less than one-third of Indiana's corn crop had been planted as of a week ago. In normal years, farmers in the state would have nearly all of their corn fields planted.
Soybean planting also is way behind because of the wet weather, with 17 percent of the crop planted as of June 3.
An updated reported is expected Monday afternoon, but much improvement isn't likely.
U.S. Department of Agriculture statistics show Indiana is behind every other corn-growing state and almost every soybean-growing state in planting.
Ohio, which has planted 33 percent of its corn, is faring almost as badly.
The Ohio Farm Bureau Federation said it's the worst planting season since it started tracking planting progress in the 1970s.
Please enable JavaScript to view this content.