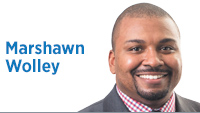 In his recent State of the City address, Mayor Joe Hogsett was able to identify a number of key wins under his administration—and, although he missed the mark in a few areas, he could point to progress.
If you are a Democrat, Hogsett probably made you proud. He has real accomplishments that have moved the city forward.
While noting an overall 3.6% unemployment rate and nearly 7,000 new jobs at an hourly rate of more than $31 in 2018, Hogsett astutely recognized not everyone was benefiting from these strong economic numbers.
The mayor was able to point to the success of specific programs like Project Indy, his youth summer jobs program, and not-for-profit partners like Employ Indy, which focuses on talent pipelines, and Indy Achieves, which partners with local colleges to help students matriculate through postsecondary education, as part of the effort to address inequities in the workforce.
The mayor also discussed affordable housing. But the big announcement for community development in the speech was that Indianapolis would receive $55 million worth of New Market Tax Credits, a tool used to raise money for community development projects in low-income areas—like, for example, grocery stores in food deserts.
Strong economic-performance numbers, coupled with a realization that there needs to be inclusive growth, were undermined only by the omission of any mention of minority and women business development—especially given the recent reported success of two major public works projects and the first disparity study in about 20 years.
The mayor addressed public safety and, in this area, I don't think he gets the credit he deserves—but he missed the mark relative to the black community.
The mayor should get credit for his administration's work on criminal justice reform more broadly but also for specifically addressing mental health as it pertains to the criminal justice system.
And despite what you might hear this campaign season, the facts are that overall crime has been going down. In 2016, overall crime was down 1% from the previous year; in 2017, it was down 8%; and in 2018, overall crime was down 4%.
Too many in the black community live a different reality. The homicide rate for black males in Indianapolis was about 500% that of white males in 2018—an astronomical disparity.
The mayor didn't create the problem, but he can't ignore the reality, either.
Not-for-profits are doing what they can, but there needs to be a deeper and focused city government engagement on black males. Quite candidly, the ongoing epidemic of black male homicides threatens the perception of the city as a safe place.
City government should revisit and refine the Indianapolis Commission on African American Males—which included a director-level position in the Peterson administration.
Hogsett failed to discuss education—specifically charter schools, accountability, the problem of racial achievement gaps across the county—and what role he sees charters playing in education for the city.
Big ideas such as a 25-year plan to fund investments in neighborhoods and address food insecurity stood out.
A $400 million infrastructure plan passed with bipartisan support is no small political accomplishment, even with a "stubbornly functional" government.
Black community leaders will express their specific and legitimate concerns in these areas and others, but overall, the mayor made a decent case for a hopeful, healing, progressing city where peace is ascendant.•
Click here for more Forefront columns.
Please enable JavaScript to view this content.