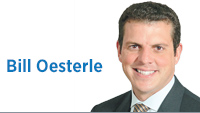 Each year, I like to look over legislation for items of interest. I am not talking about the two or three headline laws, but rather the other 290 that didn't get much press. After all, it is these bills that do the hefty work of governing us.
This year, one bill in particular caught my attention. It regulates peer-to-peer vehicle-sharing companies, which enable Hoosiers to rent their cars for individual rides. I am interested in gig economy laws, and this one provides reasonable guidelines for an emerging industry, passed with bipartisan support, and even drew praise from both the peer-to-peer vehicle-sharing companies and their rental competitors.
Not bad. Unfortunately, there was one last piece.
The legislation specifically precludes local municipalities from enacting regulations governing ride sharing. This phenomenon has a name—home rule preemption. I have written about it before when discussing Indiana's infamous Plastic Bag Protection Law. Home rule preemption is a bad trend. I am sorry to see it hurt this otherwise good piece of legislation.
"Home rule" is the simple concept that local municipalities can govern their own constituents. It applies to counties, townships, cities and towns. If Terre Haute leaders want to ban spitting on the sidewalk, so be it. They are accountable to their voters. Terre Haute has banned spitting, by the way. City ordinances are famously quirky. You can't throw your couch at your neighbor in Warsaw, for example. Beyond that, local ordiances are close to the ground, meaning they are some of the most direct expressions of self-government on the face of the earth.
Home rule is a good thing. Arguably, there is no better system of democratic accountability than a well-structured local ordinance. In theory, elected officials know the constituents and the constituents know them. Further, the local politician is more likely to be directly affected by the benefits or costs of his or her actions.
However, in my view, the best thing about home rule is that it is the experimental laboratory for democracy. Indiana has 92 counties, 120 cities, and a list of towns and townships too long for me to count. The point here is that all these municipalities get their own chance to run things. They try things—sometimes great, sometimes stupid—and they do it in broad daylight for all the other municipalities to see.
Small municipalities are perfect for big experiments because, if they fail, well, they're small. But if they succeed, their ideas can be copied by all the other municipalities. I think our biggest, boldest ideas should originate in our cities and towns. We should have nearly 1,000 municipalities attempting all manner of things that can be copied or avoided by their peers.
This all brings us to home rule preemption. This is the process by which the Indiana Legislature decides it doesn't like experimentation. It shuts down the local laboratories. These preemptive actions began with reasonable measures like railroad gauges and highway widths, where standardization met some broader purpose. But over the years, they migrated to big social issues like gun control and abortion. Now, virtually any issue is a candidate for home-rule preemption.
The preemptions are now routine and apply to everything from vacation home rentals to ride sharing to plastic bags. They are the perfect tool for the lazy lobbyist who doesn't want to go to the trouble of dealing with local municipalities.
Sadly, the more preemptions that accumulate, the more we choke off our democracy laboratories. It is a slow death by a thousand cuts, and it is hurting Indiana.•
Click here for more Forefront columns.
Please enable JavaScript to view this content.